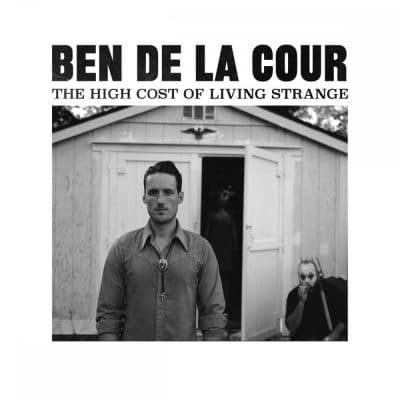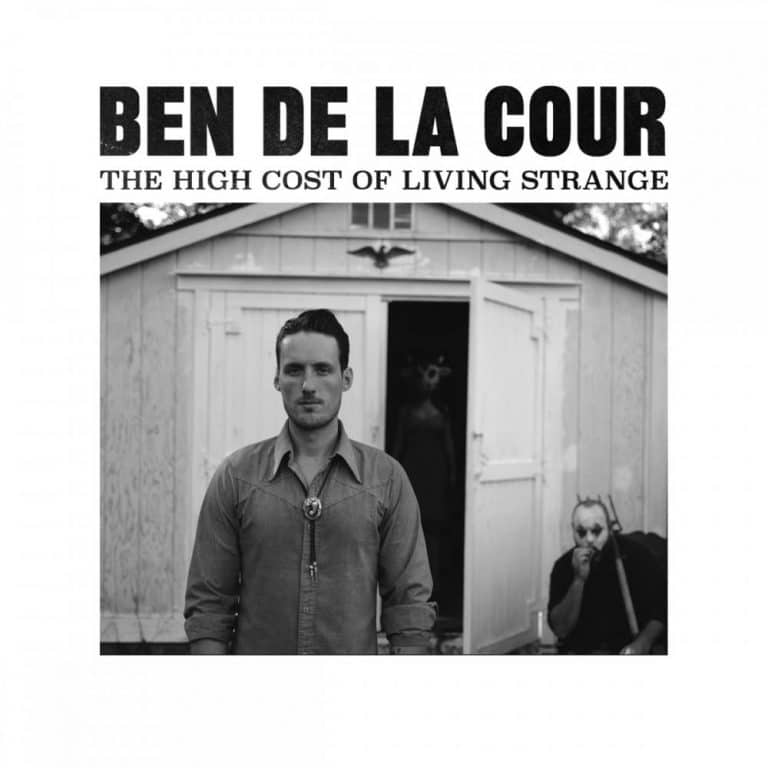 A boxer and a rocker who was born in London, raised in Brooklyn, Ben de la Cour played dive bars underage and dropped out of school to join a Heavy Metal Band. His formative years were deftly shaped by Bob Dylan the Everly Brothers and Lynyrd Skynyrd. Turning his steely eyed intensity towards an acoustic guitar, Ben has found the perfect canvas for crafting his lyrics in Americana. The High Cost Of Living Strange exposes the underbelly of a nation loosing hope in its future, and destroying itself following a path to escape at great cost.
Immediately the commentary of The High Cost Of Living Strange states it'll be one hell of a ride. "Dixie Crystals" is a highly charged fiddle slap bass and toe tapping beat telling us, "the only thing better than playing to win is playing to lose and it's a goddamn sin, but tomorrow's three or four days away I got dixie crystals running through my brain…what don't kill me now is gonna kill me in the end, amen!".
"Uncle Boudreaux Went To Texas" 'cause Louisiana never felt like home. Does it matter if it was only in his head? Living is something you make, God love the dreamers of the world. "I guess home is hard to find when you can't find a thing to call your own"
In "Company Town", "The whole town's been flatlined now for close on thirty years and the last to see it coming were the folks who live 'round here". Brilliant imagery in the vein of Steve Earle, Ben de la Cour outlines the life lived and lost in a belly up existence. "Money bought the farms, money bought the meth, but it won't bring back the good old days or take the bullet out of Charlie's head"
These are songs written with a punk rock tenacity. There's no sugar-coating these stories from Middle-America. The thing is, we're all in this together and as Ben says in "Face Down Penny", (co-written with Olivia Rudeen), being a "busted spoke on a little pink bike lame as a duck and sharp as a knife", and probably will be for the rest of his life. Even though everyone "knows your broke, the wheel still turns the same and it can all be fixed at the end of the day"
"Guy Clark's Fiddle" written with the poetic clarity of Ben Bullington and damned if you don't go search for something broke to hang on your wall.
"There's an old fiddle in pieces
Hanging up on Guy Clark's wall
Broken forty years ago
For reasons unrecalled
But he still keeps it up there
So he remembers when
He destroyed something
That he'll never make whole again"
Ben is one heck of a songwriter who vividly expresses the state of a nation on the brink, of a people grasping at straws. Who paints the pulse of middle America? Ben de la Cour does with lyrics such as…"face down penny on a broke down bus, too old to roll, too proud to rust…sitting 'round choking and cursing at the dust wondering if anything will ever look up".
The High Cost Of Living Strange – Flour Sack Cape Records – produced by Ben de la Cour and Joe Lekkas and is live tracked with minimal overdubs, no headphones, one room, and recorded in few days. The album isn't overproduced, it's a perfect complement to these stories. Ben added vocals as well as plays guitar, mandolin and moog. Jimmy Sullivan added bass and vocals, Erin Nelson tapped out drums and percussion. Billy Contreras fiddled, Jeff Lisenby provided accordion, Backing vocals were added by Collins de la Cour and Becky Warren. Additional bass was added by Joe Lekkas on track eight. WWW.BENDELACOUR.COM
– Viola Krouse
[amazon_link asins='B01FRFMKQY,B07BTR42KY,B009O9PKT4,B07DLG7V4C,B07DLF23J5,B07DLDT6S2,B07DLDBZM6,B07DLCT3D9′ template='ProductCarousel' store='maasc-20′ marketplace='US' link_id='a12dfb7d-79a5-11e8-be12-e933bdd140f8′]