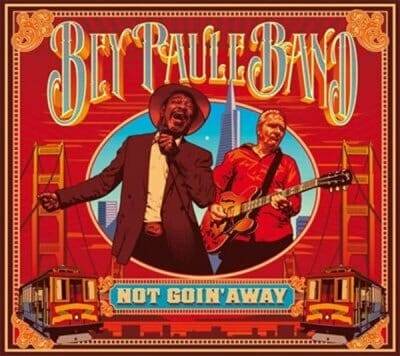 The Bey Paule Band
Not Goin' Away
City Hall Records
Frank Bey recorded his second album "Blues in The Pocket" before moving to California in 2008 to work with Anthony Paule. Anthony Paule is a guitarist who knows how to play with a big band. For twelve years Paule was the lead guitarist in The Johnny Nocturne Band. This is the Bey Paule Band's third cd. Formerly called The Frank Bey and Anthony Paule Band their last studio recording "Soul for Your Blues" resulted in them receiving two 2014 Blues Music Award nominations.
This is an all-star band. Their current lineup includes Bey, vocals; Paule, rhythm and lead guitar; Paul Revelli, who worked with Joe Louis Walker, drums and percussion; Paul Olguin, who worked with Elvin Bishop, bass; Tony Lufrano, whose credits include Boz Scaggs, keyboards; Nancy Wright, who also currently plays in the Elvin Bishop Band, tenor sax; and Mike Rinta, trombone and Tom Poole, trumpet, both of whom worked in The Tommy Castro Band. This album is co-produced by Paule, Christine Vitale, Revelli and Kid Anderson.
The songwriting has been a collective effort. Credit is due however to Vitale who has co-written eight of the twelve songs. The opening track "Black Bottom" is from Vitale, Paule and Olguin and it tells Bey's story and how he once opened for Otis Redding. Those interested should seek out his complete bio written by Lee Hildebrand as it appears in the February 2014 issue of Living Blues Magazine. Bey's vocal and the production on this song is absolutely fantastic.
Three more songs are written by Vitale with her husband Paule. You gotta' hear "Kiss Me Like You Mean It" with superb organ from Lufrano and the fabulous horn section of Wright, Rinta and Poole. "Next to My Heart" features the lyrics "writing this letter, tears in my eyes, hope you can read it, when teardrops dry, words don't come easy, when where face to face…so I'll hold this letter next to my heart". Also written by Vitale and Paule is the title track "Not Goin' Away".
Keyboardist Lufrano plays piano on "Right in front of You" with a nice guitar solo from Paule. Lufrano also contributes "Ballad of The Lover Man".
"Noel's Haze" is an instrumental written by the band. Paule sets the rhythm while Poole, Rinta and Wright each get a chance to solo. "Don't Ask Me How I Feel" was written by Vitale with Annie Stocking and Tommy Castro.
Included also are two covers. "Someone You Use" originally recorded by Candi Staton features Lufrano's keyboards and Wright's sax. Bey's vocals are perfect throughout the recording and the closer "If I Could Reach Out", originally recorded by Otis Clay in 1972, is no exception.
You gotta' gotta' have this.
Richard Ludmerer