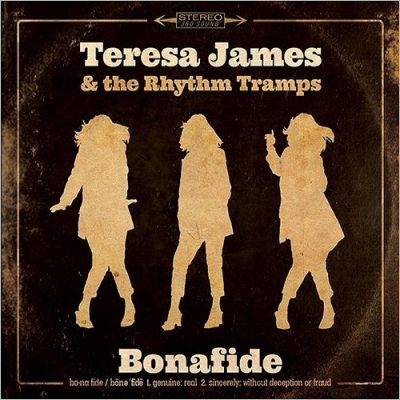 Teresa James & The Rhythm Tramps
Bonafide
Jesi-La Records
Teresa James is originally from the Houston, Tx. area but has long resided in Los Angeles. In 2000 she released her first recording "Teresa James and the Rhythm Tramps: Live". The following year she released the "Whole Enchilada" and in 2003 "Oh Yeah". These albums have each been re-issued several times as all of her albums are in demand. James' fifth album 2007's "Bottom Line" resulted in her being nominated for a 2008 Blues Music Award as Contemporary Blues Female Artist of The Year. James' last album was 2012's "Come On Home".
The original Rhythm Tramps were formed in 1970 by Terry Wilson and Tony Braunagel. On "Bonafide" The Rhythm Tramps include James, piano and vocals; Producer Wilson, bass, percussion, guitar and strings; Billy Watts, guitars; and Braunagel, drums. The background vocalists are Wilson and Watts. Over the years the Rhythm Tramps have included many musicians and some of them guest on this recording.
"I Like It Like That" was written by Lowman Pauling of The 5 Royales. The song was first recorded in 1954. It is played here by the core band of James, Wilson, Watts and Braunagel. James' vocal is exceptional. "Have a Little Faith in Me" is the John Hiatt classic. Mike Finnegan, organ; and Jerry Peterson, sax, are added. This is a great version from James.
All of the remaining songs were written by Wilson except for "My God is Better Than Yours" which was co-written by him and Greg Sutton. Here it's a vocal duet between James and Sutton. Herman Matthews sits in on drums; Watts plays bottleneck guitar; while Phil Parlapiano is added on piano. "Too Big To Fail" also includes Matthews who is the Rhythm Tramps drummer when Braunagel is elsewhere.
"Funny Like That" features Finnegan on organ. On "What Happens in Vegas" Finnegan switches to piano while James' voice soars. "Spit It Out" includes organist Finnegan, and Darrell Leonard on multiple horns; this is a fabulous production. "No Regrets" features both Finnegan on organ; Lewis Stephens on a Wurlitzer and Sean Holt on sax. "Hollywood Way" is another song with a horn arrangement from Leonard.
On the title track, "Bonafide", drummer Jay Bellarose hammers out an infectious beat while Red Young sits in on organ. "The Power of Need" features Mark Pender, trumpet and horn arrangement; and Ron Dziubla, sax. On "You Want It When You Want It" Dziubla is again on sax while Young is back on organ. "You Always Pick Me Up" includes a horn arrangement from trumpeter Lee Thornburg formerly of Tower of Power; with Stephens on organ and James on piano.
Wilson's production is excellent throughout the album while James' vocals are outstanding. Everyone needs to hear this recording.
Richard Ludmerer