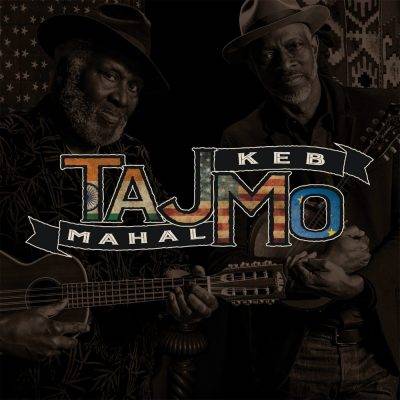 Taj Mahal/Keb Mo
TajMo
Tajmo Record/Concord Records
Taj Mahal released his first two albums in 1968 when he was twenty six years old. He was a product of an older generation and his influences included Howlin Wolf, Muddy Waters, Junior Wells, Lightnin' Hopkins and Sleepy John Estes. His self titled first album included his version of Estes' "Diving Duck Blues". Later that year when he released the "Natch'l Blues" Taj further established his own rhythmic style. Tunes like "Good Morning Miss Brown" and "Corinna" were highly danceable. He even named his 1993 album "Dancing the Blues". In 1997 and again in 2000 Taj won Grammy Awards for his work with The Phantom Blues Band. In 2008 when Taj released "Maestro" it included danceable versions of two classics "Scratch My Back" and "Josephine"; and danceable originals like "Black Man, Brown Man" and "Strong Man Holler".
Although only separated in age by nine years Kevin Moore was a late bloomer. He released his first self titled album as Keb' Mo' in 1994 when he was forty three years old. That album included his own danceable songs like "Tell Everybody I Know" and "She Just Wants To Dance". Subsequent albums included "Perpetual Blues Machine" and "You Can Love Yourself". As a result Keb won Grammy Awards in 1997, 1999 and 2005. Although he spoke to a whole new generation the older folks took notice.
Taj and Keb have occasionally shared the stage together. It is with great reverence for each other that these two bluesmen have finally come together to make this recording. Keb states that the making of the album was a process that took two and a half years.
"Don't Leave Me Here" was written by Keb, Taj and Gary Nicholson. The first verse is sung by Taj and the second by Keb. "I'm stuck here in Chicago, please don't leave me here" features Billy Branch on harmonica and horns to accentuate the rhythm. The horn section includes Sam Levine, sax; Keith Everette, trumpet; and Roger Bissell, trombone. The horn arrangement is by Keb and Lendell Black.
"She Knows How To Rock Me" is from William Lee Perryman a.k.a. Piano Red and Dr. Feelgood. This is one of those danceable tunes. The band is stripped down to a four piece unit with Taj on an acoustic and Keb on a resonator guitar; Eric Ramey is on bass; and Marcus Finnie on drums.
"All Around The World" written by Keb features eight background singers and a vocal arrangement by Michael B. Hicks. Quentin Ware, from The Delbert McClinton Band, is added to the horn section and he takes a fabulous trumpet solo. Colin Linden is on mandolin.
"Om, Sweet, Om" was written by Keb, John Lewis Parker, and Om Johari. Parker was a member of Papa John Creach's band Zulu which also featured a young Kevin Moore on guitar. Johari currently heads up her own band The Philly Katz. Once again the vocal arrangement is from Hicks; Joe Walsh is on guitar; and Phil Madiera on keyboards. Lee Oskar takes a harmonica solo while Lizz Wright joins Taj and Keb on the vocals.
"Shake Me In Your Arms" was written by William Lee "Billy" Nichols a guitarist, soul songwriter, and rap music producer. Included are Walsh, and Madiera. This time trumpeter Ware is joined by saxophonist Jovan Quallo and trombonist Roland Barber.
"That's Who I Am" is from Keb, Al Anderson formerly of NRBQ, and country songwriter Leslie Satcher. Hicks sits in on the B-3; Linden is on mandolin and the horn section is Ware, Quallo, and Barber.
Estes' "Diving Duck Blues" is performed as a duo with Taj and Keb on their respective guitars.
"Squeeze Box" was written by Pete Townsend and recorded by the Who on their 1975 album "The Who By Numbers". The production starts off sounding like the "Who" before venturing off on it's own. Joe Walsh is on guitar. "Mama's got a squeeze box and daddy don't sleep at night".
"Ain't Nobody Talkin" was written by Keb and Parker. It features Keb on both acoustic and electric guitars; Madiera on the B-3; and the horns with Ware, Quallo and Barber.
"Soul" is by Taj and Keb. The horn section remains the same but with the addition of Nestor Torres on flute who takes a solo. The horn arrangement is by Lendell Black. Once again the vocal arrangement is by Hicks. Phillip Moore is on bass. Keb is on multiple guitars while Taj plays ukulele and banjo.
The closer "Waiting On The World To Change" is from John Mayer. Once again Taj and Keb perform as a duo but this time with Bonnie Raitt providing the background vocal.
The album was produced by Taj and Keb. Their ambitions have been fully realized as it's a joy to listen to. Taj and Keb are also excited about their upcoming tour beginning the end of May. Catch them if you can.
Richard Ludmerer
[amazon_link asins='B06XH1Q5K8,B06WWMXK7C,B06XMYCSCS,B06X9JWLNT' template='ProductCarousel' store='maasc-20′ marketplace='US' link_id='779e1681-3052-11e7-aeed-ff5790f3148e']