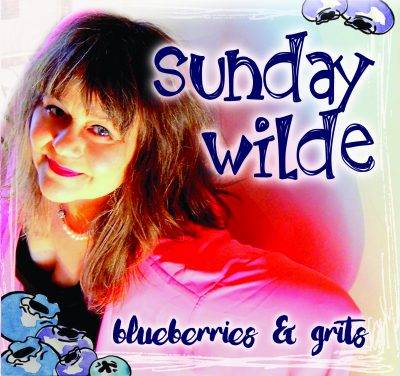 Blueberries and Grits is the name of Canadian artist Sunday Wilde's 6th album, and while she may be new to many US listeners, she is an awarding winning artist in Canada. After this album, she should gain more fame and honors in the US too.
Wilde has a wonderful, vintage sounding voice which works perfectly with her tinkly piano playing and the stellar band of acoustic musicians she has playing everything from an 1857 Cottage Pump organ to dobro , trumpet, washboard,drums and guitar. She has another well-known Canadian artist , Reno Jack, playing upright bass and joining her on the song, "One of These Days" and the one and only Watermelon Slim doing some mighty smart back-talking and singing some background vocals. . Overall,, every song sounds like Saturday night in your favorite honky-tonk, either early in the evening or late after hours. (With the exception of the last number, "Come On in." That one is for Sunday morning, when you need to get sanctified.)
Things get off to a rip-roaring start with some hot trumpet from Roger Reupert leading into Wilde's belting explanation of just what sort of a man she (and any woman) needs.. Then it's "Early in The Morning,," all about what it's like to wake up with the blues. It's a Louis Jordan song, but here is sounds like it belongs to Sunday Wilde.
Wilde's piano playing has a lot to do with the vintage club atmosphere of this record and on "Mama's Drinkin's Done" it mixes perfectly with the trumpet to deliver a rollicking tune and a powerful vocal that talks about what it's like to be out of control without sounding either melancholy or preachy. "That Man Drives Me Mad" introduces that smart talking from Watermelon Slim, which nearly makes it understandable why so many women stay with men that spend all their money and drive them crazy.
"Too Many Troubles" is still a bouncy tune but it adds just the right amount of edge to deliver the authentic message, as all of the original tunes here do, making you feel good while still subtly getting darker message across at the same time. That is what the blues does best, after all.
Willie Dixon's "John the Conquer Root" gets absolutely the most sensual treatment ever from Wilde. I can just envision the goosebumps popping out on every heterosexual man's arms when she sings "All she has to do i s rub…." and that trumpet just adds exactly the right touch. But hey, we're just talking about voodoo here..wait, does that make it better? Possibly the best song on an album of best songs.
Next Wilde takes on the great Ruth Brown"s "Daddy Daddy" and gives it that same sensual touch, slowing it down and bluesing it up until it sounds like an entirely different but equally great song. . She does just the opposite with Bessie Smith's "Sorrowful Blues," making it faster and altogether more upbeat. The piano is just entirely amazing here, as is the dobro. This arranging is absolutely genius.
Reno Jack duets with Wilde on "One Of These Days," and the contrast between his deep, growling voice and Wilde's higher range makes what could be a good romantic song and makes it downright spooky in the best possible way.
The last song on the album is a total change as Wilde treats us to a full-out, Sunday-go-to-meeting gospel number, "Come On In." This one takes us from the club to the church house and makes you feel like joining a congregation!
Wilde is different and thoroughly enjoyable and the acoustic musicians playing with her are wonderful. Get ready to feel good!