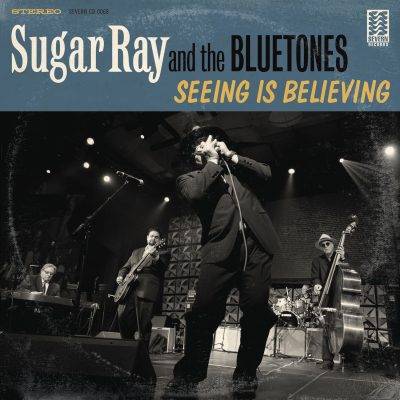 Sugar Ray & The Bluetones
Seeing is Believing
Severn Records
Sugar Ray & The Bluetones have been nominated for numerous Blues Music Awards. In 2016 they were nominated for Band of The Year for the third time; they were previously nominated for this award in both 2012 and 2015.
This is the Bluetones seventh record for Severn and tenth album overall.
Sugar Ray Norcia formed the original Bluetones in 1979. His first guitarist was Ronnie Earl. He has appeared on over fifty albums including one with Big Walter Horton. He spent seven years as frontman for Roomful of Blues including playing on the Grammy nominated 1996 "Turn It On! Turn It Up!" In 1999 Norcia also appeared on the Grammy nominated "Superharps" album with fellow harmonica virtuosos James Cotton, Billy Branch and Charlie Musselwhite. He has been nominated three times for Blues Music Awards as Best Instrumentalist – Harmonica. Norcia also has four BMA nominations for Album of The Year; 2007's "My Life, My Friends, My Music"; 2012's "Evening" and 2015's "Living Tear to Tear". In 2014 Norcia won a BMA for Album of The Year as part of the Blind Pig "Remembering Little Walter" tribute. Two of these Bluetones albums were also nominated for Traditional Blues Album of The Year and Norcia won a second BMA in this category for the "Remembering" album. Norcia has also been nominated twice for Song of The Year and once as Traditional Male Artist of the Year.
For this new album Norcia has composed six songs including the title track; "Keep On Smiling"; "Blind Date"; and "Not Me" featuring his sweet side.
Lead guitarist Monster Mike Welch made his own mark with his 1996 debut "These Blues Are Mine" on Tone-Cool Records. He has seven recordings of his own and has guested on numerous other albums including albums by The Mannish Boys and The Knickerbocker All-Stars. In 2016 he received a BMA nomination as Best Instrumentalist – Guitar.
"Sweet Baby" was written by Welch. On it we get to hear Norcia's harp and howl.
On piano and Hammond B3 is Anthony Geraci. Geraci has played with Muddy Waters, Ronnie Earl, and also fronted "Little Anthony and The Locomotives". He has three albums under his name. He is also the leader of Anthony Geraci and The Boston Blues Allstars, which includes the Bluetones, and has four 2016 BMA nominations including: Album; Traditional Blues Album; Best Instrumentalist – Piano, and Song of The Year.
Geraci contributes "Noontime Bell" and "Got a Gal" with Norcia singing through the harp mike.
Bassist Mudcat Ward has played with Hubert Sumlin, Ronnie Earl and Ron Levy. He has been with Norcia since the very beginning. He has a 2016 BMA nomination for Best Instrumenalist – Bass.
Ward has authored both the humorous "Misses Blues" and "Two Hundred Dollars Too Long".
Neil Gouvin has played with Ronnie Earl and The Broadcasters and is among the best drummers in the business.
The only cover is included as a tribute. "You Know I Love You" is a B.B. King instrumental. Welch's guitar playing is absolutely beautiful.
Norcia, Welch, and Geraci are all fabulous soloists. Norcia states it's "almost telepathic the way we work together". Their communication creates a unity that sets them apart. One day soon they will be named Band of The Year.
Richard Ludmerer