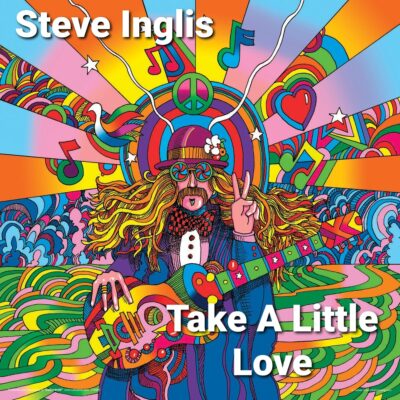 Steve Inglis
Singles
Self Release
Today I would like to introduce you to the singer / songwriter Steve Inglis.
Steve lives in Scotland, more precisely in Edinburgh, and taught himself to play bass guitar at the age of 14. His first band was influenced by blues and soon formed a large audience. The local Hells Angels were huge fans but unfortunately one band member was too involved and that meant the end of the band. Steve started to learn guitar and piano and played cover songs by other musicians. The next band was again very successful in Scotland, but jealousies put an end to that too. This period shaped him very much and in his song Stay he sings about this difficult time. He stopped making music, went to a regular job and didn't touch the guitar for years. He started again slowly and wrote music for himself, recorded it with a Tascam 4 track recorder( and continues to do so today) and uploaded it to the Myspace platform. YouTube was still in its infancy back then. Because he got very good feedback he continued and gradually there were more music platforms where you could make your songs public. Steve says about himself that it is not easy for him to write the songs but that he literally has to squeeze them out of himself. Something you can hardly believe when you hear it.
His music is an ingenious mixture of soft rock and ambient, strongly influenced by Brian Eno whose music has left a lasting mark on him. The fun fact is that Steve can't read a note, he's really playing from his heart and that is clearly audible. Songs like "One More Dance" give you goosebumps, I've never heard anything as emotional as this piece.
Then again you find songs like 'Take A Little Love', an uptempo song with a rousing sound, as well as in "Music On", a rock song that invites you to headbang. A strong contrast to this is "Time" which reminds me a bit of Pink Floyd, just like the wonderfully calm song "Drift Away"
Steve cannot be tied to any genre and it never gets boring to listen to him. His two albums "Fusion" and "Ambient Chill" can be found on Reverbnation.
Follow Steve and let yourself be carried away into a world full of varied music!



Help Support Making a Scene
Your Support helps us pay for our server and allows us to continue to bring you the best coverage for the Indie Artists and the fans that Love them!
Make a one-time donation
Make a monthly donation
Make a yearly donation
Choose an amount
Or enter a custom amount
$
---
Your contribution is appreciated.
Your contribution is appreciated.
Your contribution is appreciated.
Donate
Donate monthly
Donate yearly
You can donate directly through Paypal!
Subscribe to Our Newsletter