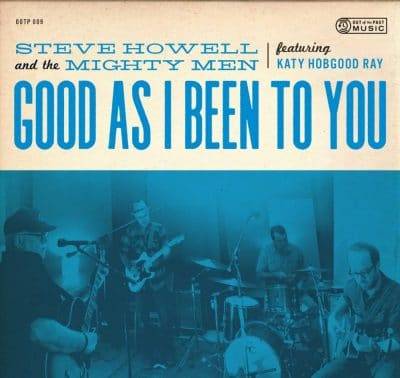 Steve Howell and The Mighty Men featuring Katy Hobgood Ray
Good as I Been To You
Out of The Past Music
Steve Howell is from the area around Texarkana. That region is steeped in tradition and so is Howell's music. Howell finger picks the guitar and usually is content to recreate traditional country blues.
This is Howell's eighth album overall. Several albums ago he renamed his band The Mighty Men and this is his third album with the new name. The Mighty Men include Howell, acoustic and electric guitar and vocals; Chris Michaels, electric guitar and vocals; Dave Hoffpauir, drums and vocals; Jason Weinheimer, electric bass, organ and vocals; and the two newest members vocalists Katy Hobgood Ray and Dave Ray.
Sometimes however Howell covers time honored pop tunes thereby reintroducing them as tradition. In that sense he is a songster. Smithsonian Folkways defines a songster as both a "keeper of tradition …and tradition's worst enemy, contaminating local tradition with modern popular music". It sounds like a bad thing but it's not. Howell possesses a warm voice similar to Elvin Bishop and his albums are collections of tunes almost forgotten. Howell recognizes the emotions within the songs.
Howell is a historian and he breaks down the songs origins on the liner notes. Howell celebrates the composers and arrangers of the "Brill Building Sound". The building at 1619 Broadway housed recording companies which became hit factories for girl groups and teen idols. He covers two of these songs: Gene Pitney's "It Hurts To Be In Love" written by Howard Greenfield and Helen Miller; and "The Sun Ain't Gonna Shine Anymore" written by Bob Crewe and Bob Gaudio, and recorded as a single by Frankie Valli in 1965.
"Bacon Fat" written and originally recorded by Andre Williams in 1957 was also cut by Doug Sahm and Jesse Edwin Davis. "When I Was A Cowboy(Out On The Western Plains)" written by Leadbelly was a favorite of mine when it was waxed by The Jim Kweskin Jug Band. Another Leadbelly tune "Easy Rider" is beautifully sung by Katy. Walter Davis' "Come Back Baby" was recorded by Lightnin' Hopkins and Ray Charles among others. Also covered are songs from Memphis Minnie, Blind Lemon Jefferson, and Arthur "Blind" Blake; in fact the album's title comes from a line in Blake's song "You Gonna Quit Me Baby".
This is another great album from Howell who seems to get better with age.
Richard Ludmerer
[amazon_link asins='B07DC4RG7Q,B01775LQC6,B07473RJPG' template='ProductCarousel' store='maasc-20′ marketplace='US' link_id='03e83035-7cc5-11e8-9c1f-8536e0147bae']