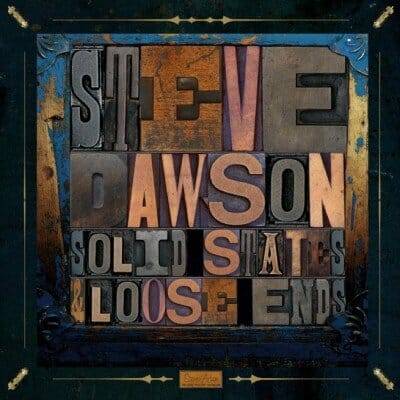 Steve Dawson
Solid States & Loose Ends
Black Hen Music
Steve Dawson is originally from Vancouver, Canada. He has produced or played on over 80 albums mostly recorded at his Henhouse Studio. His Black Hen Music label has given us musical treasures such as 2009's "Things About Comin' My Way": A Tribute to the Music of The Mississippi Sheiks" by various artists including Bob Brozman, John Hammond, the North Mississippi All-stars and The Sojourners. In 2014 he produced Jim Byrnes' "St. Louis Times" one of that year's best albums. He has been nominated for 18 Juno awards (Canada's equivalent to our Blues Music Awards) having won 7 times, twice as an artist and five times as producer. Recently Dawson moved to Nashville and relocated his Henhouse Studios to Brentwood Tennessee.
Since 2000 Dawson has recorded seven of his own albums including 2011's "Nightshade" and 2014's "Rattlesnake Cage". The later was recorded solo and inspired by guitarists John Fahey and Leo Kottke. This new recording is Dawson's eighth.
The band on "Solid States and Loose Ends" includes Dawson, electric and acoustic guitars, and vocals; the rhythm section of Gary Craig, drums; and John Dymond or Mike Bub, bass; Kevin McKendree, keyboards; and Fats Kaplan, viola, fiddle, mandolin, and accordion. The horn section of Jim Hoke, sax; and Steve Herman, trumpet, are added on four tracks. The background singers are Regina and Ann McCrary or Keri Latimer. The Horn arrangements are also from Hoke. Dawson has written ten of the fourteen songs included.
"Broken Future Blues" features the trio of Dawson, Craig, and Dymond. Dawson has grown considerably as a vocalist. On "Little Silver", Bub sits in for Dymond. On the traditional "Henhouse Door" Dawson is solo and gives us a fabulous acoustic slide performance.
"Final Words" features the above mentioned trio and the horn section but McKendree is added on organ. The same personnel appear on both "Loose Ends" with the addition of The McCrary sisters; and on Joe Tex's "You Got What it Takes" but this time with a background vocal by Latimer.
Kaplan plays viola on "Leave My Name Behind" and fiddle on "Driver's Wheel" and "On Top of The World". Kaplan switches to mandolin for "Rosie's Blues" and two traditional tunes; "Monkey On My Back" and the fabulous "Delia".
This is the best album we have heard from Dawson whose vocals have matured so much that they now match his guitar prowess. He continues to combine influences from both blues and country music. This album should achieve greater appreciation for the talents of Dawson.
Richard Ludmerer