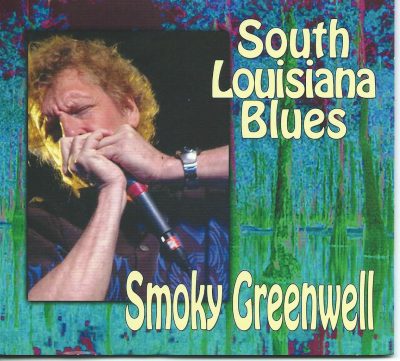 Smoky Greenwell
South Louisiana Blues
Greenwell Records
Smoky Greenwell, harmonica, is best known as Lee Oskar's replacement in the band WAR. Not only can Greenwell play funk, rock, and rhythm and blues but he is also immersed in the music of New Orleans. He has shared the stage with everyone including Snooks Eaglin, Coco Robicheaux, George Porter Jr., Walter "Wolfman" Washington, Warren Haynes and longtime associate Johnny Neel. One of my favorite Greenwell songs is his cover of Herbie Hancock's "Watermelon Man". Greenwell is a harmonica player with great versatility.
My favorite Greenwell albums include 2005's "Smokin Classics" an album of covers from various genres; and 2008's "Between Iraq and a Hard Place" a blues album with a post Katrina edge. Greenwell's last album was a blues jam recorded "Live at The U.S. Mint".
This is Greenwell's eleventh recording and he has enlisted some of New Orleans' best musicians to assist him. The core band is Greenwell, harmonica, tenor sax, and vocals; Jack Kolb, guitar; David Hyde, bass, and the great Doug Belote, drums. "South Louisiana Blues" includes songs written by some of the greater area's best songwriters.
"Let's Work Together" is from Wilbur Harrison most famous for his 1959 mega hit "Kansas City". This song was originally titled "Let's Stick Together" when it was written in 1962. It became a hit for Harrison in 1970 after its title was changed. Johnny Neel sits in on piano. Greenwell sings it like it's a New Orleans anthem.
"I'm Glad She's Mine" is from Cornelius Green a.k.a. Lonesome Sundown. Again Neel is on piano. Two other Lonesome Sundown songs are also included both with great vocals from Greenwell, "I Had a Dream Last Night" and "Lonesome Lonely Blues" with Joe Krown on the keyes.
"Two Headed Woman" was written by Willie Dixon. Greenwell gets a high reedy sound from his harp; while "Dirt Road Blues" is from Bob Dylan and another vocal from Greenwell with nice guitar from Kolb. The latter features Pete Bradish on drums.
"You Can't Take It With You" was written by Greenwell and it includes the lyric "you don't need a lot of money to be happy". "Animal Angels" features a slide guitar solo from Kolb and Krown on the B-3.
Then there are the instrumentals. "Pick It Up" was co-written by Greenwell and guitarist Kolb, it features background vocalists Lynn Drury and Dana Abbott.
"Boogie Twist" is an instrumental from Cal Valentine with Greenwell on the sax and Neel on the B-3.
Kolb contributes "The Hunch" featuring Greenwell's harp; Neel's B-3; Kolb's guitar, and Willie Pankar on drums. This instrumental reminds me of Booker T. and The MG's.
Lee Allen although born in Kansas was a key figure in the New Orleans Rock & Roll scene. He played or recorded with Paul Gayten, Dave Bartholomew, Fats Domino, Lloyd Price, and Little Richard. His instrumental "Walking with Mr. Lee" was a hit in 1958 and it is reprised here. Greenwell is fabulous on the sax.
Greenwell's harp tone is one of the best. His musicianship along with Belote, Kolb, Hyde, Neel and Krown make this the best blues album to come out of New Orleans in quite some time.
Richard Ludmerer