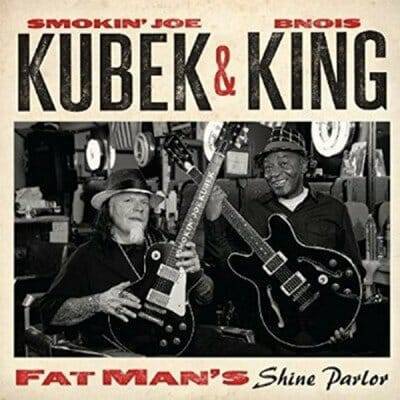 Smokin' Joe Kubek & Bnois King
Fat Man's Shine Parlor
Blind Pig Records
This band is one of few that are built around a two guitar attack; however Smokin' Joe Kubek and Bnois King may be opposites in their individual approaches to the guitar. Kubek played rhythm guitar in Freddie King's band until his death, while Bnois King has a jazzier guitar style. They played together for the first time in 1989.
Kubek and King released their debut recording "Steppin' Out Texas Style" in 1991 on the Bullseye Blues Records label. Originally called The Smokin Joe Kubek Band featuring Bnois King, between 1992 and 2000, they released eight albums and all but one on Bullseye.
In 2003 the duo signed with Blind Pig Records and released "Roadhouse Research". They recorded two more albums for Blind Pig before signing with Alligator Records in 2008. 2010 saw them release their second Alligator recording "Have Blues Will Travel". In 2012 they migrated to Delta Groove Records where they released two more recordings their last being 2013's "Road Dog's Life". This newest album, their seventeenth overall, marks their return to Blind Pig.
The band currently consists of Smokin' Joe Kubek, guitar; Bnois King, lead vocals and guitar; Shiela Klinefelter, bass, and Eric Smith, drums. Guitarist Kim LaFleur guests on three tracks.
Their two guitar attack is best demonstrated on two of my favorites "Crash and Burn" and "Headed for Ruin". All of the songs were written by Kubek and King except for "Brown Bomba Mojo" which was co-written by them with the late Steve Hecht of Piedmont Talent; and it features nice guitar solos from both of them. Guitarist Kubek is again featured on "One Girl by My Side" and both of them on the instrumental "Lone Star Lap Dance".
King's soulful vocals are featured throughout the recording but I find him especially nice on "Diamond Eyes", "I Don't Want to Be Alone", "How Much", and the lowdown "Done Got Caught Blues". "River of Whiskey" is a song about recovering from a bout with alcohol.
The album is produced by Kubek. He and King have been together for twenty-six years. This is another great album from this dynamic duo.
Richard Ludmerer