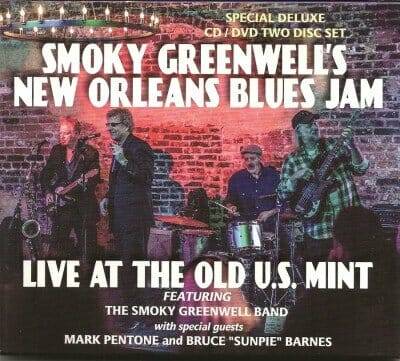 Smoky Greenwell
New Orleans Blues Jam: Live At the Old U.S. Mint
Greenwell Records
Smoky Greenwell learned the harmonica in Memphis and Nashville and moved to New Orleans in 1981. He has shared the stage with Snooks Eaglin, Coco Robicheaux, George Porter Jr, Walter "Wolfman" Washington and many others. He is best known as Lee Oskar's replacement in the band WAR as he was with them until 1996. In post Katrina New Orleans the blues once again beckoned him.
This new album is both a CD and a DVD. The band consists of Greenwell, harmonica, sax and vocals; Jack Kolb, guitar; David Hyde, bass; and Pete Bradish, drums. Guest artists include Zydeco accordion player Bruce "Sunpie" Barnes and guitarist Mark Pentone.
Greenwell opens the set with "Smoke Alarm". This instrumental co-written with Johnny Neel is the title track off Greenwell's 1995 album. "My Own Blues Club" is the story about Greenwell's club which he owned for the six month's prior to hurricane Katrina.
This is Greenwell's 11th album overall. His last album was 2012's "99% Blues". Greenwell reprises two songs from that album. The theme from the television show "Peter Gunn", which ran from 1958 – 1961, was written by Henry Mancini. The ground breaking jazz soundtrack won Mancini an Emmy and two Grammy awards. "The Power of Now" is the first self-help song and includes the line "every moment is brand new". "Between Irag and a Hard Place" was the name of an album released by Greenwell in 2008 and that song is also reprised here.
Pentone who performs with his own band called Mark and The Pentones also performs in a duo with Greenwell and they released the album "I Earned the Right to Sing The Blues". Included are two songs written by Pentone; "Jodie" and the previously mentioned title track.
Zydeco accordionist Barnes, who also has his own albums under the name Sunpie and The Louisiana Sunspots, once played NFL football with the Kansas City Chiefs. He has written and guests on both "Love's Gone" and "Leroy's Shuffle"; on the later Greenwell plays the tenor saxophone. The session closes with another Greenwell composed harp instrumental "Back to The Boogie".
Greenwell still owns and operates a store in the New Orleans French Market where he sells cds, harmonicas and other music related items. He and his music are totally woven into the fabric that is New Orleans.
Richard Ludmerer