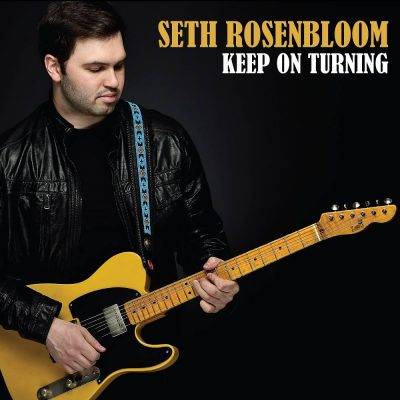 Seth Rosenbloom
Keep On Turning
HOLMZ Music
Blues-rock guitar slingers are a dime a dozen these days, making it difficult to break through the clutter. Seth Rosenbloom has as good a chance as any though, with incendiary playing and superior songwriting. After all, it is mostly about the songs in the final analysis. Shredding can only take one so far. Rosenbloom is effectively a triple threat, with searing guitar playing, emotive vocals, and the songs to match.Some are already comparing him to a younger version of Matt Schofield, high praise indeed. Arguably, though, Rosenbloom's voice is more powerful, and his guitar is based more on feeling than sheer technique.
Rosenbloom hails from the Boston area, having grown up in nearby Waltham. He was trained as a classical violinist as a child and began playing guitar at age 11. Being a quick study, he earned a performance merit scholarship form Berklee College of Music by the time he as 16.
He's already earned the respect of the backing musicians who support him here. He had the vision to hire master blues-rock guitarist Josh Smith as producer. Smith, as an aside, released a fine album himself this past fall, entitled Burn to Grow. They gathered Travis Carlton on bass (Robben Ford, Scott Henderson), Scott Kinsey on keys (Tribal Tech) and Gary Novak (George Benson, Chick Corea) on drums. Backing vocalists and horns grace select tracks. Smith produced in his home studio in California.
Rosenbloom wrote or co-wrote six of the nine songs, with co-writing credits to Sonya Rae Taylor. He also covers B.B. King's "Heartbreaker," Elmore James' "Look Over Yonder Wall" and Leon Russell's paean to Freddie king, "Palace of the King." As mentioned previously, though his impact is immediate with the opening autobiographical title track and continues through "Crawling Back" and "I Can't Help It."
His guitar burns intensely and his vocals drip with passion. Impressively, he seems more focused on tone and the right notes rather than trying to play too many of them. Listen to the slow blues "Right About Now" or "Broke and Lonely" as glowing examples. Simply put, he gets it. Rosenbloom's got the ingredients to become a major fixture in today's blues.
[amazon_link asins='B07KFW2Y18,B07KFW1PGQ,B07KFVMWHS,B07KFVQN5L,B07KFVTRG9,B077KYB5RV,B077KY4H7S,B077L3CPZ4′ template='ProductCarousel' store='maasc-20′ marketplace='US' link_id='63efc8ae-cedb-4d4f-8b31-ac70e5bd3b3b']