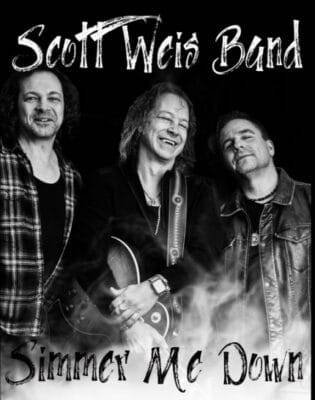 Scott Weis Band
Simmer Me Down
Sleepy Lodge Records
Scott Weis began playing professionally in the 1990's. Early on he worked with, or opened for, Jerry Garcia, Junior Wells, John Lee Hooker and Buddy Guy. He formed the Scott Weis Band in 2005; and recorded their well-received 2006 debut "Have A Lil Faith" with co-producer Bobby Kyle. The power trio of guitarist and vocalist Weis, bassist Robert Kopec, and drummer Roger Voss, recorded their follow-up album"Tryin' To Get Back" in 2008 at the Mix-O-Lydian Studio in Lafayette, NJ. The band opened for The Nighthawks; Little Feat, and Blues Traveler when they played at The Mountain Laurel Center for the Arts in Bushkill, Pa. In 2012 the band was an inductee into the Pennsylvania Blues Hall of Fame. The SWB's last album was 2018's "Songs from The Vault". Later that September they played Penn's Peak in Jim Thorpe, Pa.
The current SWB line-up remains Weis, guitar and vocals; Kopec, bass and backing vocals; and Voss, drums and backing vocals. "Simmer Me Down" was recorded, mixed and mastered by the late Ben Elliot at his Showplace Studios in Dover, NJ. The recording was one of Elliot's last projects and is dedicated to his memory. Additional musicians include background vocalist Cindy Mizelle, keyboardists John Ginty and Phil Silverberg, and percussionist Bashiri Johnson.
Tinsley Ellis once stated that the SWB is "No bull rock and roll". Weis begins "Times are not easy for everyone and when I play music it's a spiritual thing for me. I use my guitar as a way to express my soul and the energy I have for life. When I play, I try to take everyone with me so we all can forget about life for a while and relax". Eight of the ten tracks are originals written by the band.
"Pride and Soul" opens with Weis' guitar as the background singers chant "I know that you can take my pride, but you can't get my soul"; as the rhythm section lays down the heavy beat Weis begins to sing. Voss' drums signal the start of "All Over Again" before Kopec joins in, they are a powerful pair and set up Weis' evocative vocal and stinging guitar, the combination works well. This time it's Voss snare that begins the New Orleans styled second line on the title track, "Simmer Me Down", with Ginty lighting it up on piano; Weis' guitar and vocal are indelible before he takes a turn on harmonica
Weis takes a soulful vocal on the Isaac Hayes/David Porter classic "When Something Is Wrong With My Baby" first recorded by Sam & Dave in 1966; the background singers complete the production. Weis' guitar screams as he opens the happy "Helpless", the rhythm section once again clears the way for Weis' vocal.
"Jesus Just Left Chicago' and is bound for New Orleans" is the other cover, written and recorded by ZZ Top in 1973; this is another outstanding performance. "The Way I Do" is a funky production featuring Johnson's percussion and an outstanding solo from Weis. "Saved" is another well written song, and the band has that special "snap" that takes everything to a higher level. The instrumental closer "Transcendence" paints a sonic landscape.
There aren't many power trios that I care for. The Scott Weis Band is the exception. This album produced by the band, and engineered by Elliot, is much more than expected.
Richard Ludmerer