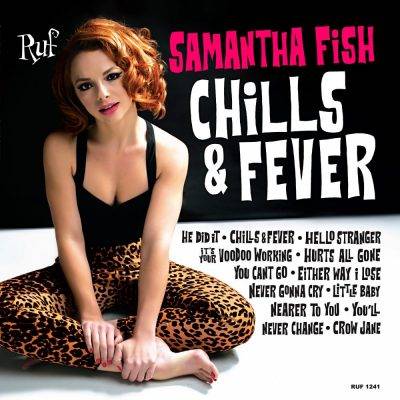 Samantha Fish
Chills & Fever
Ruf Records
Samantha Fish was raised in Kansas City. She started out as a drummer but switched to guitar when she was fifteen. She recorded, "Live Bait", in 2009 and got noticed by Ruf Records. She was part of Ruf's 2011"Girls With Guitars" along with Cassie Taylor and Dani Wilde. That same year she released her debut recording "Runaway" also on Ruf Records; as a result Fish won the 2012 Blues Music Award for Best New Artist.
Fish's second studio recording was 2013's "Black Wind Howlin' featuring Mike Zito, Yonrico Scott, and Johnny Sansone. Her last album was 2015's "Wild Heart" produced by Luther Dickinson. For this new album Fish decided to concentrate on 1960's Rhythm and Blues. These selected covers are obscure chestnuts and a pleasure to listen to.
Fish, lead guitar and vocals; has an all new band consisting of Detroit veterans. Joe Mazzola, rhythm guitar; Steve Nawara, bass; and Kenny Tudrick, drums; were all members of the rock band The Detroit Cobras. Rounding out the band are pianist Bob Mervak and New Orleans horn players Mark Levron, trumpet; and Travis Blotsky, saxophone. Nawara and Tudrick were also members of another Detroit rock band "The Go" along with producer Bobby Harlow.
Fish's guitar opens "He Did It" written by Jackie De Shannon and recorded by The Ronettes in 1965; it was also recorded by The Detroit Cobras in 2001. The title track, "Chills & Fever" was a single for Ronnie Love in 1961 and also for Tom Jones in 1964. "Hello Stranger" was written and recorded by Barbara Lewis in 1963. "It's Your Voodoo Working" is from Charles Sheffied and a hit single for him in 1961. "The Hurt's All Gone" written by Jerry Ragovoy was the "B" side of an Imperial Records 1965 single by Irma Thomas. "Either Way I Lose" was a 1965 single for Nina Simone. The horn charts and arrangements are fabulous and so is vocalist Fish.
"Never Gonna Cry" written by Fenton Robinson was recorded by the soul group The Cineemas in 1964. "Little Baby" is from Mick Stubbs and was recorded by his group The Blue Rondos in 1964. "Near To You" authored by Allen Toussaint was recorded by Barbara Harris in 1967 and by Betty Lavette in 1969. "You'll Never Change" written by Willie Schofield, an original member of The Falcons, was also recorded by Lavette.
"Crow Jane" is from Julius Daniels, a Piedmont Blues musician, and appears on a 1986 compilation; featured is some rockin' guitar from Fish. "Somebody's Always Trying" recorded by Ted "King Size" Taylor in 1964 featured Jimmy Page on guitar. "I'll Come Running" was recorded in 1965 by the Scottish singer Marie McDonald McLaughlin Laurie, better known as Lulu.
Fish and producer Harlow teach us a thing or two about this era gone by. The production is solid throughout and repeated listening will only cause you to like it even more. This is Fish's most impressive recording to date.
Richard Ludmerer
(EDITORS NOTE: Samantha Fish won 5 "Independent Blues Awards" in 2016 from "Making a Scene" Best Contemporary CD, Best Female Artist, Best Roots Song (Go Home), Road Warrior Award and ARTIST OF THE YEAR!)
[amazon_link asins='B01N5QATPT,B00VXWO4JM,B00EB1EE10,B004TNZV9E,B004GWS8MK,B008I5LB3Y,B01MSDDTPH,B01FXZSQZC,B01FXZSOOA' template='ProductCarousel' store='maasc-20′ marketplace='US' link_id='b23b5f5f-172a-11e7-bf0e-c94a0e5582bd']