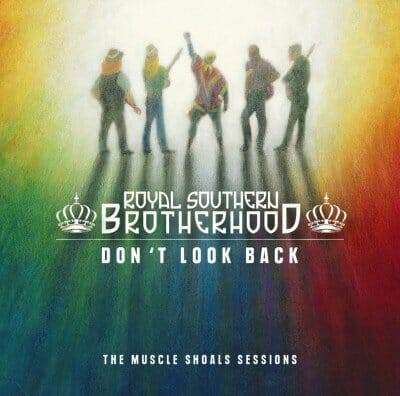 Royal Southern Brotherhood
Don't Look Back
Ruf Records
This is the Royal Southern Brotherhood's third studio recording. A lot has happened to them since their last album "Heart Soul Blood". Led by Cyril Neville, the youngest of the Neville Brothers, and the strong rhythm section of Charlie Wooton, bass, and Yonrico Scott, drums, the Royal Southern Brotherhood won a 2014 Blues Music Award for DVD of The Year.
Guitarist, singer, songwriter Mike Zito left the band in order to concentrate on his own band and they found multi instrumentalist Bart Walker to replace him. Then guitarist, singer Devon Allman parted for the same reason and they found the young energetic Tyrone Vaughan, son of Jimmie Vaughan, to replace Allman.
Without loosing a step the Royal Southern Brotherhood were ready to make another album. In order to provide themselves with additional inspiration the band decided to record at the legendary FAME studios in Muscle Shoals, Alabama. With the blessing of founder Rick Hall, the band stood where Aretha, Little Richard, Wilson Pickett, Etta James and Otis Redding once stood. They also corralled the Grammy Award winning Tom Hambridge as their producer.
The multi talented Neville is not only a percussionist, and vocalist, but also the main songwriter and leader. For this new album Neville helped by co-writing 11 of the 14 tracks. The band makes some of their best music to date.
The album opens with "I Wanna Be Free" written by Walker, Neville and Vaughan. Guitarist Walker dominates with a flurry of notes. "Reach My Goal" sung by Neville, is written by him and Walker. The title track is the reggae inspired "Don't Look Back". Walker is fantastic, playing a syncopated banjo, as Vaughan punctuates with his guitar.
Guest Ivan Neville's Hammond organ opens Danny Dugan's "Hit Me Once" sung by uncle Cyril. Wooten and Scott sound like one as Walker's guitar dazzles. "The Big Greasy" is a tribute to N'awlins again with Ivan on the B-3. "Better Half" written by Cyril and his nephew Ivan, who also plays in the band Dumpstafunk, has Cyril sounding like "Wolfman" Washington. "You're my one and only baby girl, you came into my life and changed my world".
On "Penzi" written by Wooten and Neville, the band sounds like The Neville Brothers. This time Walker is on the mandolin. Scott's drumming is superb. "It's Time for Love" written by the band and sung by Neville is just fantastic. "Bayou Baby" is another co-written by Neville and Walker. Jimmy Hall guests on harmonica. "Poor Boy" is a bit of funk written and sung by Vaughan who also takes some nice guitar solos.
"They Don't Make 'Em Like You No More" features the horn section of Jimmy Hall and Max Abrams, saxophones; and Paul Armstrong, trumpet. Walker and Vaughan trade licks.
"Come Hell or High Water" is another written by the band and sung by Neville. "The stage is my rig and the cargo my song". This is a highlight as once again Walker and Vaughan compliment each other and the rhythm section is perfect. "Anchor Me" written by Neville and Anders Osborne closes out this fine album. "I'll anchor you if you anchor me".
You might want to subtitle this album Heart, Soul and new Blood. This is another great album from this fabulous band.
Richard Ludmerer