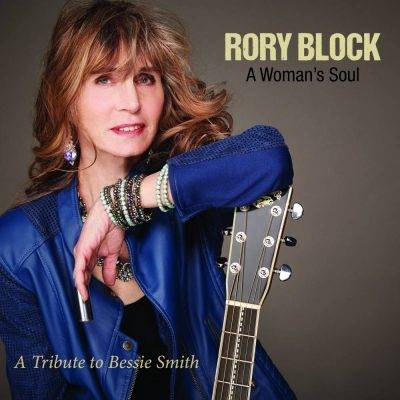 Rory Block is a five-time Blues Award winner, and with albums like A Woman of Soul, it is easy to understand why. This is the first in a series of albums called '"Power Women of the Blues." This one is a tribute to Bessie Smith.
The album contains well-known songs like "Do your Duty," "Gimme a Pigfoot and a Bottle of Beer," and "Need a Little Sugar in My Bowl." But Block also offers less familiar tunes like "Jazzbo Brown from Memphis Town," "I'm Down in the Dumps ," and the rare, rousing gospel offering, "On Revival Day."
Then there is my favorite song on the album, the sexy, sassy "Kitchen Man." Who can resist lyrics like "'I'm wild about his turnip tops, I like the way he warms my chops, and I can't do without my kitchen man"?
The selection is amazing enough, but what really inspires admiration is the realization that on this acoustic masterpiece, Block does everything herself. She plays all the guitars and bass. And she provides percussion, using , according to the press release, bongos, hat boxes, plastic storage tubs, oatmeal boxes and wooden spoons!
Block's voice does not have the power of Smith's, but she makes up for it by adding extra emotion. Take the aching sensuality of "Need a Little Sugar in My Bowl," the ragged edge of "Black Mountain" or the bittersweet blues of "Weeping Willow Blues" and the first Bessie smith song this reporter ever heard, "Empty Bed blues."
All this proves that Block, like Smith, is an important Power Woman of the Blues." She is a strong contender for the most influential acoustic artist of our time. Her Mentor series has highlighted many blues greats, like Son House and Bukka White. Now this series is set to do the same for the women. Get A Woman's Soul and join me in waiting eagerly to see what's next!
[amazon_link asins='B07D7JDT43,B07D7GWX34,B07D7J69R6,B07D7HR79J,B07D7HPZ6H,B07D7HM58M,B07D7HJRLL,B07D7HCXLR' template='ProductCarousel' store='maasc-20′ marketplace='US' link_id='d847e953-6f48-11e8-ab5f-7fa68144c42e']
[amazon_link asins='B000F5GKO0,B01MPXIX74,B0000003O0,B0000003MC,B0000C8AS6,B00139L7R2,B004LAVG0I,1456520296,B00000036M' template='ProductCarousel' store='maasc-20′ marketplace='US' link_id='e24fd013-6f48-11e8-ab19-bb84215f7665′]