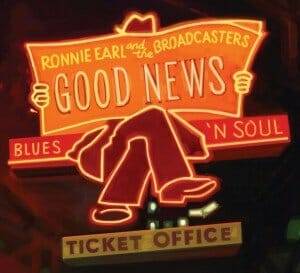 Ronnie Earl
Good News Blues N' Soul
Stony Plain Records
It was sometime around 1987 that I went to The Abilene on 8th Avenue at 13th Street to hear a blues band called "Ronnie Earl and The Broadcasters". The club was later to become "Chicago B.L.U.E.S." Ronnie had been the lead guitarist for "Roomful of Blues" and I had seen them perform at the Benson & Hedges Blues Festival in Philadelphia and at The Lonestar also in Manhattan. It was Ronnie's birthday and his father had come to see him play. He serenaded his dad and introduced the song as "Rego Park Blues". The lead singer of The Broadcasters was Sugar Ray Norcia. My head exploded and I became a lifelong fan rekindling my love for the blues.
Ten years earlier, Ronnie Earl, had replaced Duke Robillard in "Roomful of Blues". Without missing a beat "Roomful of Blues" continued its role as the best blues band in the country producing terrific albums including my favorite "Dressed Up to Get Messed Up". The debate began, whose better "Duke" or "Ronnie"? They had replaced one great guitarist with another. In the band at the time was Greg Piccolo, sax; leader of the all-star horn section which also included Doug James, Porky Cohen, Bob Enos, and Rich Latille.
In 1983 Ronnie Earl recorded his first solo album, "Smokin'", on Black Top records. His "They Call Me Mr. Earl" followed the next year. In 1987 Earl left "Roomful of Blues" to persue his career as "Ronnie Earl and The Broadcasters". A great bandleader, his band at times included Sugar Ray Norcia, Jerry Portnoy, Darrell Nulisch, David Maxwell, Ron Levy, Tony Zamagni, Anthony Geraci and Bruce Katz to name a few. Kim Wilson, Duke Robillard, Greg Piccolo, Doug James, and Kaz Kazanoff also were guest "Broadcasters".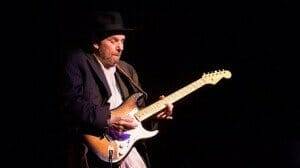 Ronnie writes brilliant compositions and takes stunning solos. My favorites are "Ships Passing in the Night" from "Soul Searchin", and the previously mentioned "Rego Park Blues" from "Blues Guitar Virtuoso: Live in Europe". There is no other guitarist of our generation who plays with the passion and creativity expressed by Ronnie's playing. By playing softly Ronnie adds drama to the dynamics and slowly builds upon his solos.
My own increased interest in where Blues meets Jazz was definitely influenced by Ronnie when he decided not to use a vocalist. Ronnie had included a Hammond B-3 player in his band for years and he is partially responsible for an increased awareness that it is a blues instrument. Jimmy Smith and Jimmy McGriff have stated that they are blues players. Earl's compositions and interpretations became closer to Jazz than ever before.
The Broadcasters still consist of Earl's guitar; along with Lorne Entrees, drums; Jim Mouradian, bass; and Dave Limina, Piano and Hammond B3. At the 2014 Blues Music Awards Ronnie Earl won Best Instrumentalist Guitar for the third time. He then performed a "mesmerizing live performance that saw him joined by Kim Wilson, Bob Margolin, and Dave Keller, resulting in a standing ovation."
This new album includes interpretations of "A Change is Gonna Come" by Sam Cooke, "Blues For Henry" co-written with Hubert Sumlin, and "In The Wee Hours" from Junior Wells. Earl has collaborated with his band members on most of the other instrumentals but closes with "Runnin in Peace" which features lyrics by Ilana Katz who was near the finish line of the 2013 Boston Marathon.
Earl is the most expressive blues guitarist I have ever heard and possess the unique ability of making each listener feel that he is playing just for them. This is a must to own. Ronnie Earl will be appearing at Michael Cloeren's 2014 Pennsylvania Blues Festival.
Perhaps you could buy a copy there.
Richard Ludmerer
To Listen to and Purchase this CD from Ronnie Earl Click Below