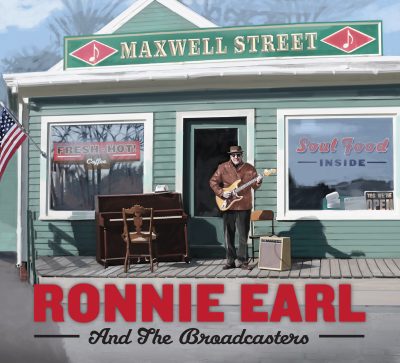 Ronnie Earl & The Broadcasters
Maxwell Street
Stony Plain Records
Ronnie Earl formed The Broadcasters twenty-five years ago and is a three time Blues Music Award winning guitarist. Earl dedicates this new album "Maxwell Street" to both David Maxwell, his friend and soul brother, and to that famed Chicago location where musicians gathered to play on Sundays.
David Maxwell, piano, passed away on February 13, 2015. He worked with Muddy Waters, Jimmy Rogers, James Cotton, and many others. He was a former member of The Broadcasters and appears on several of Earl's recordings including the now out of print "They Call Me Mr. Earl" his 1984 second album. Maxwell learned piano from Otis Spann so his style was "deep" blues. Earl's first two albums were re-packaged as one in 1985 and called "Deep Blues" and it is still available. "Jimmy Rogers with Ronnie Earl and The Broadcasters" was recorded live in Germany in 1991 and released in 1994 on Bullseye Records. Included with Earl and Rogers was Maxwell on piano. Maxwell also guests on Earl's 2009 "Living in the Light" released on Stony Plain Records. Earl and Maxwell are kindred souls.
Today the Broadcasters include Earl, guitar; Dave Limina, piano and Hammond B-3; Jim Mouradian, bass; Lorne Entress, drums; and their newest member Diane Blue, vocals. Guitarist Nicholas Tabarias guests.
Earl writes brilliant compositions; included are six originals. "Mother Angel" opens with guitarist Earl playing light and airy before settling into a groove. Limina takes a nice organ solo. This beautiful composition is reprised from Earl's 1997 "Colour of Love" album on Verve/Polygram. Other Earl originals include "In Memory of T-Bone"; "Brojoe" and "Blues for David Maxwell" which is the centerpiece of this album and which is played with deep emotion for Maxwell who died way too early. By playing softly Ronnie adds drama to the dynamics and slowly builds upon his solos.
The fifth song "Kismet" was co-written by Blue and Earl. For many years Earl recorded only instrumentals as keeping a vocalist was difficult. They all seemed to leave to begin their own bands. Occasionally Earl would make an exception and his last album "Father's Day" introduced us to two new vocalists; Michael Ledbetter and Blue. Ledbetter has returned to The Nick Moss Band and Blue has now become a permanent Broadcaster. Blue's shows her depth as a vocalist and the pairing of her and Earl's guitar playing is wonderful. Limina's Hammond B-3 decorates; Limina also contributes "Elegy For a Bluesman", another tribute to Maxwell, in a piano style similar to Maxwell's.
Earl has also selected four songs to cover, each of these beautifully sung by Blue. Earl's favorite Otis Rush tune is "Double Trouble" previously recorded by him on 2004's "Now My Soul" also on Stony Plain Records and sung by Kim Wilson. It's great to hear Blue's take on this classic. Also covered are "I've Got to Use My Imagination" written by Gerry Goffin and Barry Goldberg and originally recorded in 1973 by Gladys Knight and The Pips; "You Don't Know Me", written by Eddy Arnold and Cindy Walker and recorded by Ray Charles and others; and Don Robey's "As The Years Go Passing By" recorded by Albert King.
Maxwell was a fantastic pianist, gentleman and friend to everyone who knew him. He was also inspirational. In 1997 Maxwell appeared on James Cotton's Grammy Award winning "Deep in The Blues" on Verve Records. He had five albums in his own name and appeared on over a hundred others including recordings by Louisiana Red and Hubert Sumlin. He also played on albums by aspiring artists; to have him in your band or as a guest on your album was an honor.
Thank you, Ronnie Earl for your music; for introducing us to the fabulous Diane Blue and for sharing this wonderful tribute.
Richard Ludmerer