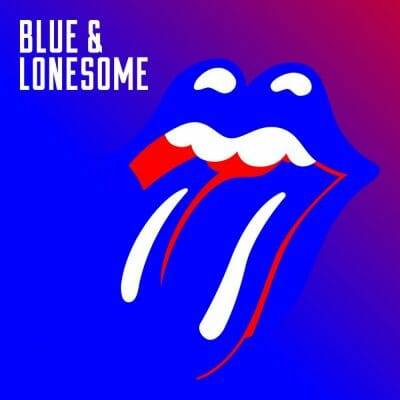 The Rolling Stones
Blue and Lonesome
Interscope Records
The Rolling Stones started out as high school classmates listening to the blues. Their early influences were American blues artists Howlin' Wolf, Muddy Waters and Jimmy Reed. Mick Jagger and Charlie Watts used to sit in with British blues artist Alexis Koerner when he played The Marquee. Jagger even became a member of Koerner's Blues Incorporated. When Brian Jones was offered the job to replace Koerner at The Marquee they were billed as The Rolling Stones; named after the Muddy Waters song.
The Rolling Stones first top ten hit in England was "Not Fade Away" a Buddy Holly tune they gave a Bo Diddley beat. When they first appeared on the television show "Shindig" they insisted Howlin' Wolf also be on the program. Their cover of Howlin Wolf's "Little Red Rooster" featuring Brian Jones on slide guitar caused thousands of young girls to scream; it is also the only traditional blues tune to ever hit number one in the U.K.
The Rolling Stones were in Mark Knopler's British Grove Studio in West London last December to record some new original material. The sound they wanted to get was not happening. In order that they loosen up they laid into Little Walter Jacob's "Blue and Lonesome". The band hadn't intended to make this album but they cut eleven more blues tunes over a three day period. Jagger, harp and vocals; Keith Richards, guitar; Ron Wood, guitar; and Watts, drums; are joined by their longtime sidemen Darryl Jones; bass; and keyboardists Chuck Leavell and Matt Clifford. Recording Engineer Krish Sharma got it all. The album is co-produced by Don Was and The Glimmer Twins.
On "Blue and Lonesome", originally recorded in 1959, Jagger delivers a fabulous vocal and his harp is also the best it's been. Guitarists Wood and Richards along with drummer Watts really nail it. Other Little Walter tunes included are "Hate To See You Go"; "I Gotta Go"; and "Just Your Fool".
Covered are two songs from Willie Dixon "Just Like I Treat You" and "I Can't Quit You Baby". The latter features Eric Clapton who just happened to be in the studio next door mixing his own album.
Howlin' Wolf's "Commit A Crime"; Eddie Taylor's "Ride 'Em On Down" originally recorded in 1955 on the Vee Jay label; and Magic Sam's "All Of Your Love" were also waxed.
Little Johnny Taylor's "Everybody Knows About My Good Thing" ; Lightnin' Slim's "Hoo Doo Blues" first recorded in 1958 on the Excello label; and Jimmy Reed's "Little Rain" are also covered.
The Rolling Stones get to indulge their blues habit. Jagger's commanding vocals help make this an impressive session.
Richard Ludmerer