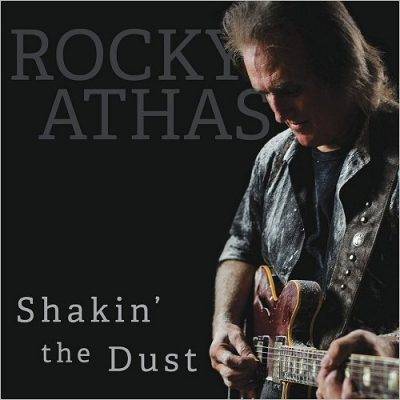 Rocky Athas
Shakin' The Dust
Cherryburst Records
Rocky Athas was born in Oak Cliffs, Texas, a Dallas suburb, in 1954. He and Stevie Ray Vaughan were schoolmates long before either became known. By 1977 Athas was already listed as one of the ten best guitarists in Texas.
In 1984 Athas appeared on Jim Dandy's Black Oak Arkansas "Ready As Hell" album. Athas became their lead guitarist and he toured with Black Oak Arkansas from 1996 until 2001.
Athas recorded his own debut album in 1999. In 2002 Athas recorded with Buddy Miles on his Ruf Records recording "Blues Berries" also featuring the late SRV's rhythm section "Double Trouble".
In 2009 John Mayall asked Athas to join the "Bluesbreakers" and he was Mayall's lead guitarist for eight years. Athas appears on five Mayall albums including 2009's "Tough"; 2011's "John Mayall Live in London"; 2014's "A Special Life"; 2015's "Find A Way to Care" and 2016's "Talk About That". In September of 2016 Mayall announced he would reduce his band to a trio and become his own guitarist. Athas joins a list of former "Bluesbreakers" that include Eric Clapton, Peter Green, Jack Bruce, John McVie, Mick Fleetwood, Mick Taylor, Harvey Mandel, Coco Montoya and Walter Trout; just to name a few.
Athas has since returned to his solo career. This is Athas' sixth solo recording the last being 2014's "Let My Guitar Do the Talking…With My Friends" an all instrumental album with guest appearances from Mayall and the late Smokin' Joe Kubek. Since much of Athas work is no longer available he also released The Essential Rocky Athas Volumes I & II.
The band on "Shakin' the Dust" includes Athas, all guitars and vocals; Walter Watson, drums, percussion and vocals; and Rocky Athas II, bass guitar. The album is co-produced by Athas and the Grammy winning Jim Gaines.
Seven of the songs are Athas originals co-written with his wife and band members past and present. "Dictator", "Pushed Me Too Far" and "Not This Time" deal with embracing your strengths and taking control of your life. "Lifeline" and "Texas Girl" are about the importance of being in a loving relationship. "Time Flies" is equally philosophical. "No More Breath" is about Athas' son's car accident; he survived and that's him playing bass.
Selected covers include Calvin Carter's "I Ain't Got You". It was recorded in 1955 by both Jimmy Reed and Billy Boy Arnold. The songs inclusion here isn't accidental as it seems to have inspired Athas' own songwriting.
"Looking Back" was written and recorded by Johnny "Guitar" Watson in 1961. This is another song that inspired Athas. He states it "reminds me of exactly how I met my wife, Jessica…It's a perfect example of how music can be universal but also personal…I was definitely looking back to see if she was looking back at me!"
"I Need Your Love So Bad" is often credited to Little Willie John who recorded it in 1955. It was written however by his older brother Martis John and they share the writing credit. A great version was recorded by Solomon Burke in 1968. There is no doubt in my mind that this song also inspired Athas.
"Villanova Junction" was recorded by Hendrix in 1969 as part of his instrumental solo that closed out The Woodstock Festival. This too short segue was renamed by Hendrix and it's shrouded in mystery as Hendrix died the following year. Hendrix was a great influence on Athas who includes his own version as a tribute.
Athas' amazing guitar work drives this muscular power trio. Athas bares his soul on this beautiful and revealing album.
Richard Ludmerer
[amazon_link asins='B076H4WSSM,B000UPBYKA,B01BQN6XSC,B01BQN6WCY,B01BQN6XQ4,B0007ZT2M0,B076V381CF' template='ProductCarousel' store='maasc-20′ marketplace='US' link_id='acbe84f0-016d-11e8-b66c-83ded4902b58′]