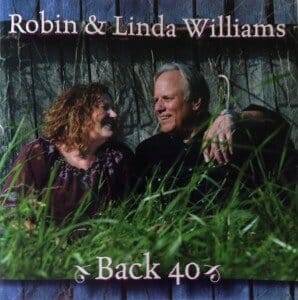 Robin and Linda Williams
Back 40
Red House Records
Robin and Linda Williams are a husband and wife harmony duo. They got their start on Garrison Keillor's "A Prairie Home Companion" radio program in 1975. That year they also released their first recording. They were originally inspired by The Carter Family but have absorbed music from many different sources. Originally they were a Bluegrass band but soon they electrified. At times "Their Fine Group" included fiddler Stuart Duncan; Jerry Douglas, dobro; and mandolinists Jimmy Gaudreau and Tim O'Brien. In 1996 they released "Sugar for Sugar" on Sugar Hill Records and that album remained on the then new Americana chart for eleven weeks. It contained original songs that have stuck in my head like "High Atmosphere". Their cover of Greg Brown's "The Cheapest Kind" has also remained one of my favorites. In 2004 they signed with Red House Records. This is their seventh Red House recording and twenty-third album overall.
Robin and Linda are celebrating their career which now spans 40 years. Thus the title "Back 40". This album was produced in Nashville by Grammy winner Jim Rooney who has worked with Nanci Griffith; Iris Dement; John Prine and Bonnie Raitt among others. The full band includes Linda, vocals and banjo; Robin, vocals and guitar; Todd Phillips, bass; Al Perkins, dobro and pedal steel; Chris Brashear, mandolin and fiddle; and Jim Watson harmony vocals.
This album features fresh versions of songs from albums some of which are out of print. Unless otherwise noted all songs were written by Robin and Linda. Some of the highlights are the opening track, "On and On", which first appeared on their 1993 Sugar Hill Recording "Turn Toward Tomorrow". From 1988's "All Broken Hearts Are The Same" they reprise "Pine Country", co-written by Robin and Jerome Clark. "Daughter of McLeod" was previously recorded twice and it appeared on their 1975 self titled first album and again on 1984's "Close As We Can Get" issued on the Flying Fish label. "Dixie Highway Sign" is the title track off their 1979 album on the June Appal label.
They also include reprised versions of three covers from songwriters whom they admire. "My Sweet Love Ain't Around" is from country music legend Hank Williams. "Boots of Spanish Leather" is the Bob Dylan classic. "Urge For Going" is their absolutely fantastic version of this Joni Mitchell song.
Also included is a brand new song, "The Old Familiar House on Christmas Day". I am continually thrilled by their harmonies and if you haven't heard them then you must obtain one of their recordings. "Back 40" would be a good place to start.
"Underlying their sound are lyrics that pluck at the nerve center of emotional experiences." "Robin and Linda Williams shine like a diamond amid rhinestones…their sound is so sincere as to give the listener chills." I could not have said it any better.
Richard Ludmerer