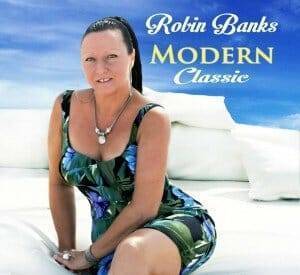 Robin Banks
Modern Classic
RB Music
Robin Banks sometimes calls herself Miss Robin Banks to differentiate her from famous males with the same name. Banks hails from Canada just east of Detroit. She released her first album "Permanent Record" in 1997 and that year won Canada's Maple Blues Award for "Best New Artist of The Year". That same year Banks went to Memphis and competed in the International Blues Challenge.
In 1999 Banks moved to Texas where she lived for seven years. She performed with Sam Myers, co-leader of Anson and The Rockets, and he guested on her second album, "Honestly", released in 2000. Kid Ramos, Pat Boyack, "Hash Brown" Calway, and Johnny Moeller are just a few of the musicians she has worked with. In 2006 Banks relocated to Jamaica and became a hit there playing with some ex-members of Bob Marley's band. She returned to Canada in 2009. Bank's last studio album was 2009's "Livin Life" with pianist Christian Dozzler.
Banks currently performs with two bands, one a straight blues band and the other a more diverse unit performing "jazz, jump blues, soul, R & B, and reggae". She often travels from Canada making stops in Texas and Jamaica.
Banks' voice has been compared to Etta James and Dinah Washington, so for this album she has enlisted the support of producer Duke Robillard and The Duke Robillard Band. Along with guitarist Robillard, the band is Bruce Bears, keyboards; Mark Texiera, drums; Brad Hallen, bass; and a Roomful of Blues horn section that includes Doug James, baritone sax; Mark Earley, sax; and Doug Woolverton, trumpet.
Banks' has written all twelve of the albums songs. She opens with "A Man is Just a Man" which loosely can be called reggae as it has got a great island sound. Robillard's guitar with just a touch of reverb is perfect.
"I Really Dig You" is a jazzier piece. On "My Baby Loves Me" Banks sounds a bit like Peggy Lee. Robillard is the only blues guitarist I know that is versatile enough to perform the Joe Pass like solo. "Crazy" features a great horn arrangement.
Duke's guitar and a rumba beat highlight "A Little Bit of Heaven". The infectious saxes of James and Earley, along with Bear's keys spice up "I'll Meet You There". On "Tonight" each of the band members get to take a short solo.
"Bite Your Tongue" is a bit of Memphis without conjuring up a Stax sound. Bears' playing is fabulous here and also on the up-tempo "You Boogie Too Fast for Me" and on "A Place in the City". "Some Day Soon" is a great closer to this fine album.
As always producer Robillard does a great job. Banks' vocals are easy on the ears as she possess a clarity and timbre not usually heard. I love this album.
Richard Ludmerer