---
---
---
---
---
---
---
---
---
---
Making a Scene Presents an Interview with Robert Hill of Robert Hill and Joanne Lediger
Robert Hill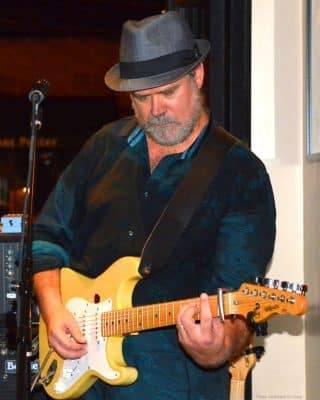 Robert Hill was born at a very early age, a small, naked male child in North Little Rock, Arkansas. As the story goes, whenever someone from the city of Little Rock, (on the other side of the Arkansas River), had something they wanted to get rid of, say, a car, a dog, or maybe an ex-wife or husband, they would drive it over the bridge to the NLR side and dump it. As a result of folks depositing, particularly dogs, the town gained the distinguished nickname of "Dogtown". It made the people proud.
Whether he was " asked" to leave the state by local officials, or left on his own accord, Hill moved to the Northeast, where he played with local NYC band, The Bluesicians, sharing the stage with numerous national acts and drunks of all ages. Here he formed the first incarnation of the Robert Hill Band, performing exclusively his own material, and released the cleverly-titled debut cd, "Robert Hill", to excellent reviews. He says many of the songs are autobiographical, just not necessarily about him. His release, "My Corner", is a showcase not only for his award-winning writing, but also for his mastery of the guitar, and soulful vocals. The title song, "My Corner", won first prize in the AAA/Americana category of the 10th Annual Unisong International Songwriting Competition. Two other songs on the cd, "Angelina" and "Another Chapter", also won acclaim in the ISC and 11th Unisong competitions.
Hill's cd, "My Corner", was placed in rotation on XM Satellite's show, "The Loft", and made it to their most requested section. The cd has aired on hundreds of staions across the country, and at the international level. He has shared the stage with Chris Smither, Levon Helm, John McEuen, Kim Simmonds, Rick Danko, Tony Trischka, Rory Block, Debbie Davies, and numerous others. Composed soundtrack for award winning PBS film documentary, "Burley", the story of a North Carolina tobacco farmer. His songs have been used extensively on television, including his song, "Long Rain",used for a Smirnoff Ice commercial which aired during the Super Bowl, and continued to run internationally. His music has also been used on "Dexter", "All My Children", 'Queer Eye For The Straight Guy", Canadian TV series, "Hell On Hooves".and numerous PSAs and radio spots. He has done extensive studio work as well, lending his slide guitar and arranging expertise to many commercials.
He has played national festivals, including The Arkansas Blues & Heritage and The Mother's Best Festivals in Helena,AR. He also has performed throughout Spain. He performs regularly around the NYC area.
Second place winner in the First Annual Slide Guitar Festival, acoustic competition, held in Brevard, NC. This was a national competition.
His track, "Slide On Rye" won 1st place in a co-sponsored contest by Guitar Player and Broadjam. He is also an accomplished animator, often projecting his award-winning music animations during band performances.
His music animaions have won several times at the Ridgewood Guild Spring Film
JOANNE LEDIGER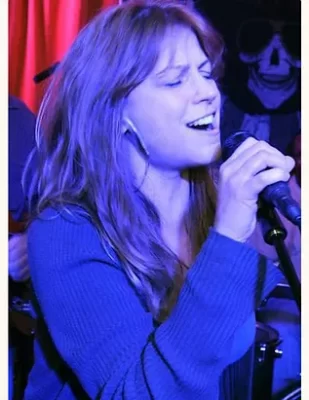 Born and raised in Rockland County New York, Joanne Lediger is a vocalist who has been performing live and recording with bands professionally for the past 35 years and has studied under Penn State's vocal master, Mary Saunders.
Her musical influences cover a lot of ground, from rock to blues to bluegrass, folk & Irish music. Among them are Gillian Welch, Grace Slick, Aretha Franklin, Taj Mahal, Mavis Staples, Mary Black, Cara Dillon, Annie Haslam, Alison Krauss and many others. Her wide range of musical tastes has given her a tremendous scope of vocal expressions.
Joanne has had the opportunity to record and/or perform with musical acts/musicians such as Joe Cocker, Vassar Clements, Derek Trucks, Dr. John, Steve Kimock, Larry Campbell, Buddy Cage, David Nelson, Cornell Dupree, Chuck Rainey, Leo Nocentelli, John Popper, Bernie Worrell, Jorma Kaukonen, Jack Casady, Michael Kang, Tony Trischka, JoJo Herman, Donna Jean Godchaux and many others.
In addition to Reverend Jefferson, Joanne is a member of Robert Hill Band, The Flying Jalapenos, McMule, Box of Rain and Stir Fried, as well as doing many side projects & session work.
Find our Podcasts on these outlets
Help Support Making a Scene
Your Support helps us pay for our server and allows us to continue to bring you the best coverage for the Indie Artists and the fans that Love them!
Make a one-time donation
Make a monthly donation
Make a yearly donation
Choose an amount
Or enter a custom amount
$
---
Your contribution is appreciated.
Your contribution is appreciated.
Your contribution is appreciated.
Donate
Donate monthly
Donate yearly
Subscribe to Our Newsletter