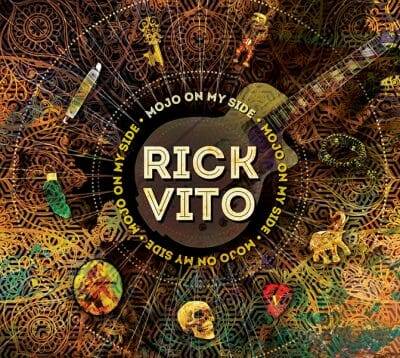 Rick Vito
Mojo On My Side
Delta Groove Music
Guitarist Rick Vito has appeared on over 100 recordings. He is best known as being a member of Fleetwood Mac from 1987 to 1991. He was also part of the Mick Fleetwood Blues Band who received a Grammy nomination in 2010. Vito has worked with Bonnie Raitt, John Mayall, Bob Seger, Jackson Browne, John Fogarty, Rita Coolidge, Maria Muldaur, Roy Orbison and Arlen Roth among others. In 2001 Vito won a Blues Music Award for writing the Song of The Year, "It's Two A.M.", sung by Shemekia Copeland.
Vito's first solo album was 1992's "King of Hearts" on Atlantic Records. He has six previous recordings and two DVD's; one a guitar instruction video. "Mojo on My Side" Vito's seventh studio recording was first released on the Belgium Hypertension Records label and just released in the U.S. by Delta Groove on June 16, 2015.
Eleven of the fourteen songs including the opening title track were written by Vito. He plays an evocative slide guitar and sings in a relaxed style learned, over the years, from the many artists he has worked with. Charles "Mojo" Johnson plays drums as Vito sings "I Got The Mojo on My Side".
"Pretty Women" is great rockin' fun and a nod to Orbison's "Pretty Woman". Rick Reed sits in on drums. "My House" features Dan Sarafini on the Hammond B-3. "Missy Brown" features some great slide guitar work from Vito. Three of Vito's tunes are instrumentals; they are "Femme Fatale"; "She Got It All" and "River of Blues".
Vito includes three covers. Magic Sam's "Easy Baby" features saxophonist Jim Hoke. Included also is "Life Was Just A Struggle" from New Orleans' R & B great Chris Kenner who passed in 1976. Kenner's best known songs were "I Like It Like That" and two recorded by Wilson Pickett; "Something You Got" and "Land of a Thousand Dances". The last of the covers is "Let A Woman Be a Woman" from Arlester Christian who led the funk band "Dyke and The Blazers"; and who also recorded the original version of "Funky Broadway".
This is a fabulous recording both instrumentally and vocally. Vito is an inventive slide guitarist with great vocal clarity. This is recommended listening.
Richard Ludmerer
https://open.spotify.com/artist/0yC7EvUceCEZm3ZeawauQA