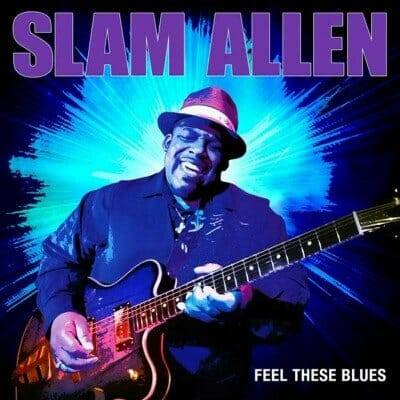 Slam Allen proves that his nine years playing lead guitar and singing with James Cotton have honed him into one fine songwriter and musician as he slams the soulful blues on "Feel These Blues." Here he is accompanied by Jeff Anderson on bass, Dan Fadel on drums and the great john Gintry on Hannond B3 organ and piano. Together, they will have you feeling the blues for sure, as well as drifting back to the days of Stax and Motown records and especially hearing the influence of the great Otis Redding.
There are 11 original tracks here and one fantastic cover, a bluesy take on Prince's "Purple Rain," with some fabulous instrumental work. Things get started with a boogie blast with "Feel These Blues," letting you know right away what kind of blues you;re going to be feeling, and it's not the slow, mournful kind. "All Because of You" takes full advantage of Allen's soulful voice and guitar and Ginty's Hammond B3 for a sprightly tune that should get your feet moving. "Can't Break Away From That Girl" will make anyone old enough to remember immediately think of the glory days of soul and singers like Redding and Percy Sledge. It's that good. Anderson's bass and Ginty's organ give it just the right vibe, and the feel-good feeling is continued on "That's Where You Are,"
The other songs on the album are equally strong and full of energy and soul. The songwriting is top-quality and so is the execution. Ballads like "in September" are followed by shouters like ""The Blues Is Back." Every song is strong and the whole collection fits together perfectly, leading to the really effective "Purple Rain" cover that is every bit as good this way as it was originally.
Slam Allen is one of the best of the new soul singers and a great guitar player as well. ""Feel These Blues" will have you feeling good. This is perfect summertime music, perfect for e beach, a road trip, or a backyard party.
https://open.spotify.com/album/1OgGX8RtbPNUJoWlHhQIzZ