Making a Scene Presents a Review of the Warm Audio WA 47jr
History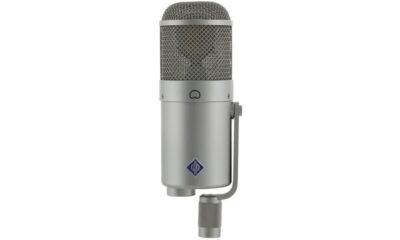 When Neumann discontinued production of the legendary U47 Microphone in the mid 1960's their engineers started working on a solidstate version of the microphone to take it's place. In 1969 they introduced the U47 FET using the same K 47 Capsule as the original U47 but utilizing a Field Effect Transitor circuit. This gave the U47 FET a much different characteristic than the original U47 with a higher SPL rating. When introduced it was not as well received as a vocal microphone, but it found a home in front of of the Bass Drum, Drum Overheads, Brass instruments, Guitar Cabs and Upright Bass. Neumann produced the U47 FET from 1969 to 1986 and reissued it again in 2015.
During the 1970's the U47 FET found favor once again as a vocal microphone because of it's high mid dip and Smooth sound. Currently the U47 FET is Retailing for $4,000!
Warm Audio WA47 Jr

The Warm Audio WA-47jr FET uses the same custom made K47 as their Warm's WA-47 Tube microphone. Instead of the tube circuitry, the WA47jr FET utilizes a transformerless solid-state FET (Field-Effect-Transistor) circuit. In the tradition of Warm Audio, they don't scrimp on the components. The WA47jr uses a Toshiba FET with Wima and Panasonic capacitors!
The WA-47jr features three polar patterns: Cardioid, Figure-of-Eight, and Omni-directional all switchable on the front of the mic. There are also switches for a 70Hz high pass filter and a -10dB pad on the back of the mic.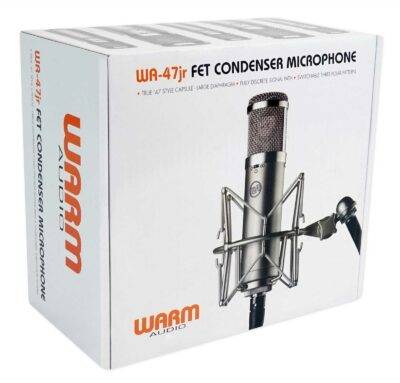 The Microphone has a good hefty feel and a very sturdy construction and weighs in just under a pound and measures a little over 8 inches tall by 2 inches in diameter. Its has a self-noise of about 9dBA and the dynamic range is specified at 138dBA and max SPL is rated at 147dB, which is way more than most large diaphragm condenser Microphones.
In the box you get the WA47Jr Microphone, a soft case to keep it clean and safe. I Microphone clip and nice microphone cage with extra bands. I personally would have liked a nice wood box like their WA47 microphone to give the microphone some extra protection while it is in my mic closet. But for $299 MSRP considering the quality of the build it is small complaint.
Impressions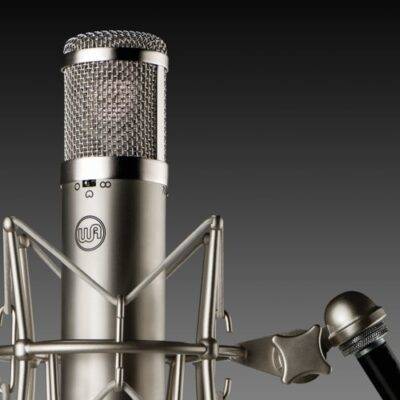 Like a photographer will collect lenses to give him options when he goes to shoot a scene, I am always looking for good quality microphones to give me options in the studio. As a rule before I will turn a knob I will move or change a microphone. After a while you get to know what your mic collection can do and what mics are best for what. I got a WA47jr about a year ago and started to experiment with it on various sources from Bass Drums to guitar amps and even vocals. I found the WA47jr has this real nice way of sounding crisp and clean without the high end harshness that you get from a lot of the low end large diaphragm condenser mics.
On Vocals the microphone can give you enough of a bite to get you through a crowded mix, on the bass drum along with an interior drum mic this can give you a really full round bass drum sound. Guitar cabs seem to make the WA47jr shine, especially if you have good room and utilize the the figure 8 or omni setting to pickup some of that ambiance! The same is true for acoustic guitars if you are looking for that nice smooth, round crisp sound. I found the WA47jr to be most effective when I mic the body of the guitar. I also had the chance to use this microphone on an upright bass for a Klezma band project and I was really surprised at how much "wood" I would able to capture.
Conclusion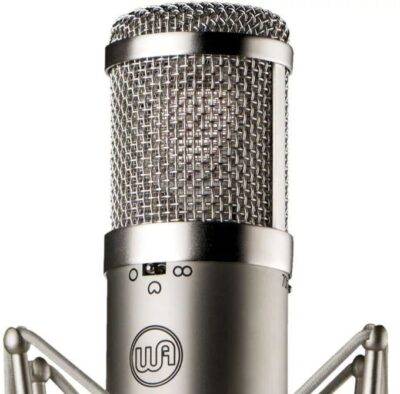 I should note that I purchased the microphone that I am reviewing, in fact the Midnight Circus Studio mic locker has quite a few Warm Audio Microphones (WA 251, WA 87, WA 47 WA 14, etc) as well as Neumann, Shure, AKG, Sennheiser, EV, Audix, etc. I have been a recording engineer for over 30 years and have worked with many different microphones over the years. A testiment to Warm Audio is the fact that, In my studio, the Warm Audio Microphones have become my go to mics.
Now, if you have a home studio or your building up a studio to bring in other artists to record, selecting quality microphones to add to your collection is important. The WA47jr at $299 MSRP is well within just about any budget while still giving you a good quality microphone built well with high quality components. Warm Audio has steadily been gaining a reputation for producing great recording equipment from compressors and Preamps to Microphones. So much so, I can pretty much guarantee you will find their equipment in even some of the most discerning studios. After my initial purchase of the WA47jr, I was so impressed with the versatility and quality of this microphone I ended up purchasing a second one!

So if you want to add a good low cost microphone with a wide variety of uses, I can definately recommend the Warm Audio WA47jr! Don't let the "jr" fool you, this microphone is not junior in its ability to become a workhorse in your mic collection.
The Videos Below gives you the ability to hear the U47jr for yourself. I Recommend you listen with studio monitors or studio quality headphones

Help Support Making a Scene
Your Support helps us pay for our server and allows us to continue to bring you the best coverage for the Indie Artists and the fans that Love them!
Make a one-time donation
Make a monthly donation
Make a yearly donation
Choose an amount
Or enter a custom amount
$
---
Your contribution is appreciated.
Your contribution is appreciated.
Your contribution is appreciated.
Donate
Donate monthly
Donate yearly
You can donate directly through Paypal!
Subscribe to Our Newsletter