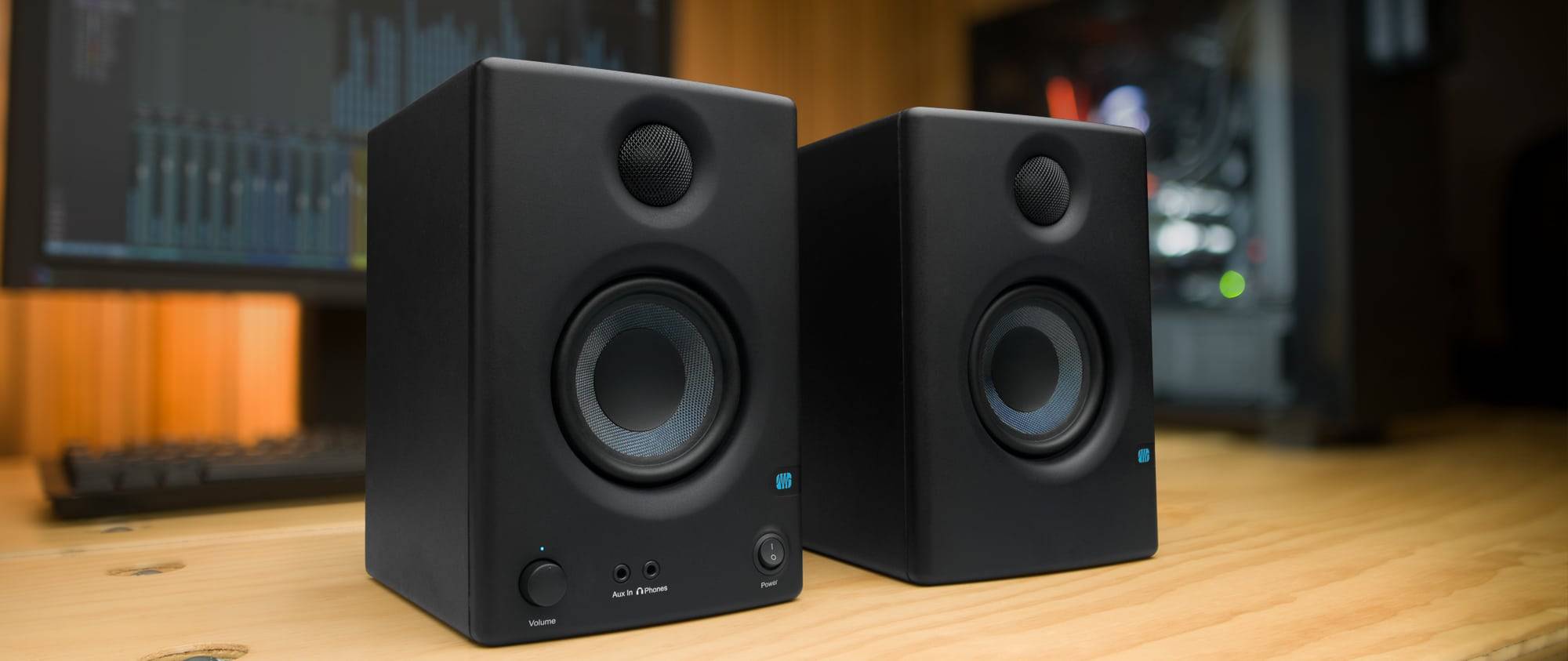 Making a Scene Presents a Review of the PreSonus Eris 3.5 Media Reference Monitors
I had gotten an invitation from Peachstate Audio, a local pro audio supplier to attend a PreSonus mixer and live sound demonstration a while back, and being a techno geek I always want to keep up with what is new, so I decided to check it out. As I entered I got a raffle ticket to fill out for various prizes to be given out after the demonstration. Since i am not really lucky with these things I really didn't give it much thought. As this was an invitation only event, there was about 20 people attending and there were 2 prizes being given away, a set of PreSonus headphones and a set of Eris 3.5 Speakers. When you own a studio, you know you can always use another set of headphones. So I figured What the hell, and filled it out and put it in the box.
Needless to say I ended up winning the Eris 3.5 Speakers. I held the box, took the pictures with the PreSonus Reps and after the event put them in the car and headed home. I figured that would be a good set of speakers for my wife to use with the Alexa in the kitchen. She likes to listen to music when she is cooking or working on her computer at the kitchen table. When I got home I set them up and ran some music through them and to be honest not expecting much from them.
The Speakers
They lasted about 15 mins in the kitchen and were quickly whisked away to my studio and setup in my system. But before we get into my test and impressions let's take a look at some of the features and specs of these speakers.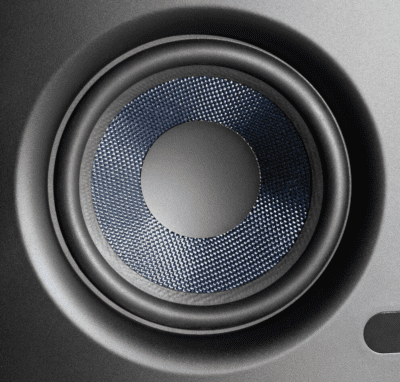 PreSonus Eris E3.5 are two-way active media reference monitor speakers that use some of the same technology as the larger Eris-series studio reference monitors. Each of the speakers contain a custom-woven Kevlar speaker that delivers a great solid bass and a clean overall sound and a one-inch silk dome tweeter, that gives these a crisp high end. The Speaker enclosures are ported in the back to help them achieve a tight low end sound.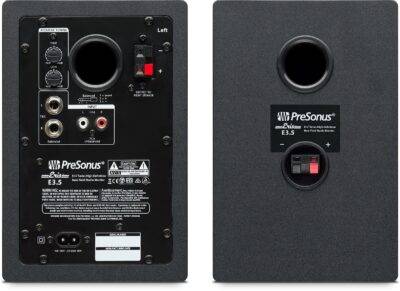 The left speaker houses a 25-watt per channel Class AB amplifier and separate high and low tone controls on the back of the speaker. It also has the single power cord input, Balanced 1/4″ TRS, unbalanced RCA audio inputs and speaker output terminals to connect the right speaker into the system. The front panel has an on/off switch and a single volume control as well as 1/8″ TRS Line in and a 1/8″ Headphone out.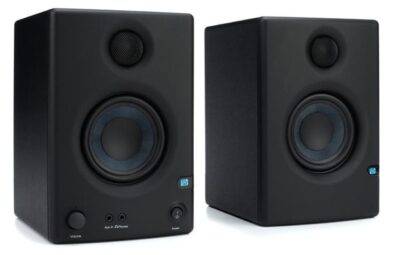 The Test
One of the realities of recording engineers is the fact that we all understand our weakest link in our mixing and mastering workflow is the speaker. Many studios have a variety of speakers they use as a reference, from the super expensive speakers like the Focal's down to smaller consumer quality speakers like the famous NS10's. I know in my studio I have a set of Focal Speakers, Fostex rm780's, Fostex 6301b's (both of which I have had since the Early 80's and are long discontinued) and set of 3 way Yamaha's with 12″ woofers. I tend to move a mix through the different speaker systems to see if I can hear issues before I commit to the mix.
Now, I have always found the best way to evaluate a set of speakers is to get your ears tuned to the speakers. Get them use to them in your listening environment using known recordings that have been expertly mixed and mastered. So, with that in mind I setup the Eris 3.5's in the studio and ran 3 complete CD's through them as I sat and listened. The first was Tony Bennett and Lady Gaga "Cheek to Cheek" because of the wide dynamic range and sonic diversity between the bass, strings and brass. The next was Steely Dan's Aja, this is one of those recordings that just amazes me every time I listen to it. I love the smooth compression and how the tracks seem to jump out at you. Finally Pink Floyd's Dark Side of the Moon, one of the all time masterful recordings.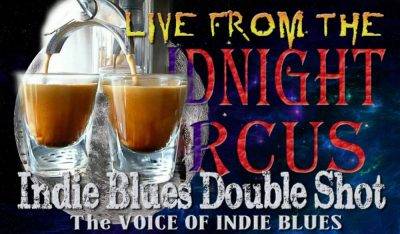 Now once I have my ears tuned to these speakers I turn them to one of my weekly tasks. I run several radio shows and in doing so I have to pour through 15 to 20 independent releases a week to determine what music ends up in my show. Now that my ears are use to the sonic signature of these speakers, I should be able to pick out issues, or lack of issues in these recordings. As I cycle through the different artists and their submitted recordings I am immediately struck with the clarity and precision that I am able to pick out mixing and mastering (or lack of) issues in some of the submissions. It was like putting a magnifying glass to the sound and pinpointing issues from a lack of high end to muddy bass, and an unbalanced EQ curve.
The reality is no matter what I tell you about the sound of these speakers, it will be my subjective opinion. What I can tell you is I have been mixing on the Fostex 6301's for almost 40 years. They have been part of my studio setup since I bought them back in the Early 80's! Since running the test on the PreSonus Eris 3.5 Speakers I have retired them and replace them with these speakers and I have not looked back since! For me to replace these trusted old friends with these new speakers should speak volumes about what they are and how they sound. Top it off is the fact that they deliver this quality for under $100 is mind blowing! Definitely don't underestimate these speakers.
Help Support Making a Scene
Your Support helps us pay for our server and allows us to continue to bring you the best coverage for the Indie Artists and the fans that Love them!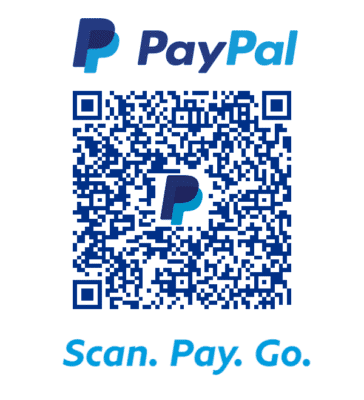 FOLLOW US ON INSTAGRAM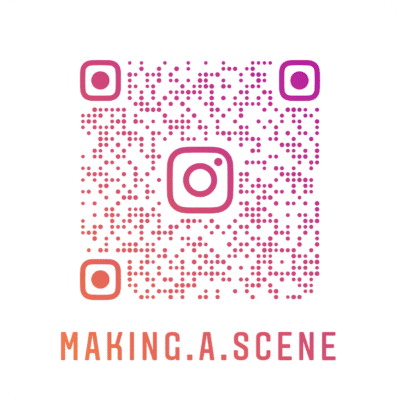 Subscribe to Our Newsletter