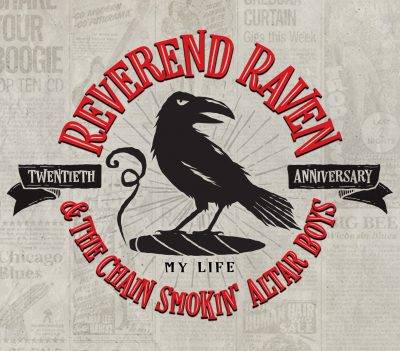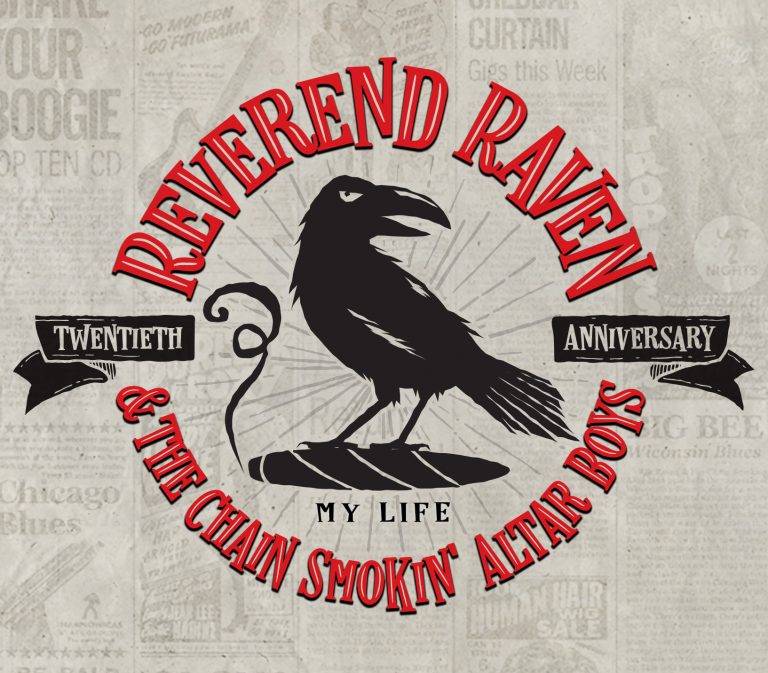 Reverend Raven & The Chain Smokin' Altar Boys
Twentieth Anniversary My Life
Nevermore Records
Reverend Raven is currently a resident of Appleton, Wisconsin. He was born and raised in Chicago and began playing guitar after seeing Freddie King at The Kinetic Theatre in 1971. He spent the rest of the seventies playing clubs on the south side of Chicago. After spending fifteen years in the Navy the Reverend resumed playing in the taverns of the greater Milwaukee area. The Reverend became Scott Sharrard's replacement in the Blues Disciples. Reverend Raven & The Chain Smokin' Altar Boys released their debut album "Slow Burn" in 1998. Reverend Raven has opened for B.B. King, Clarence "Gatemouth" Brown, Junior Wells, Magic Slim; and is still a headliner at Buddy Guy's Legends in Chicago.
Reverend Raven & The Chain Smokin' Altar Boys 2010 recording "Shake Your Boogie" received two 2011 Blues Blast Award nominations in the categories of "Best Blues Band" and "Best Song". Their last album was 2015's "Live at The Big Bull Falls Blues Festival".
This new album, Reverend Raven's eighth, is a compilation of original songs re-mixed or re-recorded from his previous four studio sessions. As a guitarist he has great tone and has mastered all styles. As a vocalist the Reverend's baritone voice displays great range and clarity. This recording documents his twenty year career.
The rhythm section heard is usually PT Pedersen or Brad Bill, bass; and Spencer Panosh, Craig Panosh, Bobby Lee Sellers Jr., or Vic Spann, drums.
Reverend Raven has played with some excellent harp players. "Slow Burn" his first album featured Cadillac Pete Rahn who plays on the opener "Handyman", on "Creature of Habit" and on the Slim Harpo styled "Bee Hive Baby". The title track from that early album features Big Al Groth on saxophone.
The fabulous harp of Madison Slim can be heard on "Bad Little Girls". He was the featured harp player on Reverend Raven's 2002 album "Live at Blues on Grand". Slim also played with Jimmy Rogers and can currently be heard with Doug Deming and The Jewel Tones.
Harp ace Benny Rickun appears on the Reverend's 2007 Big Bee recording. Reprised is this new album's title track "My Life". Danny Moore is featured playing barrelhouse piano on this tune and throughout the recording.
The Altar Boys' current harp player Westside Andy Linderman plays harp on "Someday When I'm Dead and Gone"; on "She's Moving On" with a fabulous narrative from the Rev; and on "I Can Do You Right" from the 2010 "Shake Your Boogie" recording.
As their name implies these guys are smokin' hot. This is highly recommended Chicago blues.
Richard Ludmerer
[amazon_link asins='B004CBMVSW,B010I8PZTY,B00QRRMSLE,B0002KIQ9K,B0012A3V1W,B079SW4JJY' template='ProductCarousel' store='maasc-20′ marketplace='US' link_id='2716d4d8-119f-11e8-a6dd-e307baf2a7a8′]