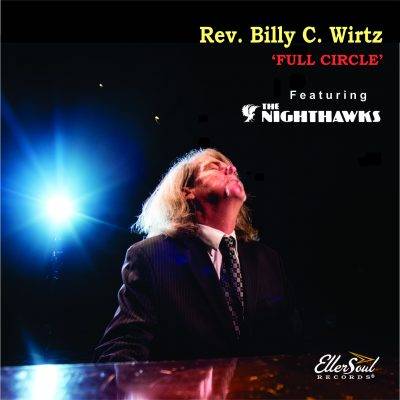 The Rev. Billy C Wirtz truly is divine, as his press release claims, if you are not easily offended and love to laugh! Do not let the title of Rev. fool you into thinking this is a religious record or you are in for a terrible shock. With the help of the legendary Nighthawks, he delivers pounding boogie-woogie piano and loads of fun on Full Circle, an album that mixes a few studio numbers with lots of live studio material in front of a real audience. There are fan favorites here as well as new songs. Wirtz delves into twisted and hilarious "biographical" material with "Daddy Was A Sensitive Man" and "Mama Was A Deadhead," and steals a story from a waitress from a diner he sometimes frequents for "Daddy Passed Away and Mama Turned Gay."He celebrates romance with"1.5,' a song about being the second happiest man alive, and takes on the troubles of aging with "Too Old" and "I'm A Senior." Along the way, he shows off his mastery of the piano and even does a spot-on version o Jerry Lee Lewis' "Drinkin' ine Spo-Dee-O-Dee." And don't forget the "Mennonite Surf Party!"
By now you should have a hint of what you're in for, and whether you're ready to join the Rev on his admittedly strange trip.
But it is the gospel song at the end that is either going to shock you to the core or stay in your head and on your playlist for days. In it, Rev. Billy explains exactly what God did to Lot's wife and some others and what he will do to you if you don't watch out: "God'll F*** You Up." Warning: I wouldn't play it around the kids!
The bottom line is that if you are not easily offended, Rev. Wirtz is one funny man who also can play and sing. You owe it to yourself, if you have the nerve, to listen to Rev. Billy C. Wirtz today.! This reviewer hasn't laughed so much in a long time