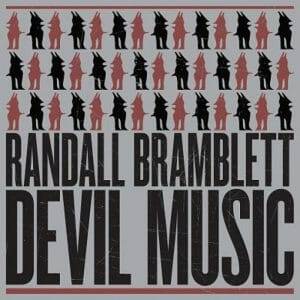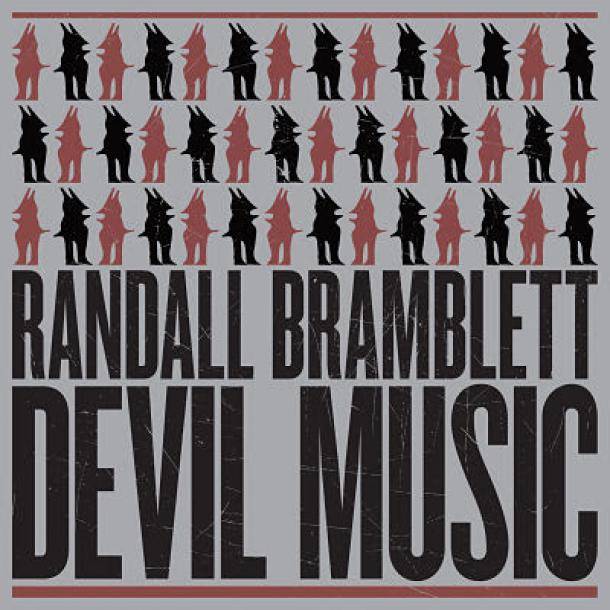 Review of Randall Bramblett's DEVIL MUSIC
New West Records – release Sept. 18, 2015
By Bruce Yandle
One of the things you can generally expect when Randall Bramblett releases a new album is that it won't be what you expect…or, at least, that it won't sound like the last one. There are consistent thematic and stylistic threads that bind his collective works together but it is his adventurousness that keeps him especially interesting to long time listeners. His latest, Devil Music, follows this tradition.
Devil Music finds Randall in a decidedly bluesy vein laden with growling, groaning guitars and stories of inhabitants on the periphery of an often indifferent world. Many of the songs seem built for the stage and his superb full band. The title cut—based on a true story of Howlin' Wolf being rejected by his "sanctified" mother when he approached her after he had achieved some success—sets the course for the album's motif of desperation and confusion with both the world at large and the rag and bone shop of the heart. He is joined by some musical luminaries such as Chuck Leavell, Mark Knopfler and Derek Trucks who augment his regular band—bassists extraordinaire Michael Steele and Michael Rhodes, guitarists Davis Causey and Nick Johnson, drummer/percussionist Seth Hendershot and drummer/producer Gerry Hansen—but, as ever, no one seems to trump the song itself. Tasteful and eclectic as ever, the supporting cast bubbles to the surface and shines and then ducks back down into the soup.
RB casts a wide net from a musical stand point—rock, blues, swing, jazz, soul, electronica—without seeming distracted. The title track starts with a keyboard line that almost brings to mind hip hop before being joined by an eerie high register bass line as he testifies in old school blues tradition until the building tension in the music breaks and the band falls into a nasty funk groove and Wolf (presumably) declares, "Mama I can't stop playing that Devil music." But rather than make the song a cartoon Randall examines the cognizant minds of the adversaries. On one hand you have the mother fighting the "mean world spinning and the wrong crowd winning" and on the other a son—though 6'3" and no shrinking violet—needing her unqualified love. The characters—real or conjured—who inhabit Randall's songs have a three dimensional quality to them that is often absent in songwriting.
Wolf seems to hover over the proceedings in a way and it is fitting as Chester Arthur Burnett was himself a complex character having performed with many of the Mt. Rushmore figures in delta blues history and yet at the same time earning an accounting degree towards the end of his life. Bramblett has often written about the unseeable world within the one before our eyes and our perceptions versus reality and in this way a person such as Wolf seems appropriate.
In "Dead in the Water" a slide imitates the famous Howlin' Wolf yodel and many of the songs grind over a lone chord with guitars, organ and distorted voices snarling and moaning back and forth with one another and then entwining. The aquatic imagery and forlorn desperation continue with "Bottom of the Ocean" and, indeed, the proceedings early on seem to be carrying forth under water in a compressed and pressurized world where people drown on dry land.
Derek Trucks delivers an immediately recognizable shimmering and shivering slide to "Angel Child" which Bramblett sings in a falsetto that is not common to his previous recordings. Towards the end Trucks twins the vocal line and once again stakes his claim as one of that rare breed of soloists whose voice one can easily recognize within a few notes. The influence of both Duane and Indian sitar music are apparent in his phrasing.
The real stand out tune to me personally is "Reptile Pilot." Bramblett reminds me of Prince both in his wandering spirit and the way that within a short section of a song he will twitch in several different directions—any one of which pique interest—only to settle in another unanticipated and infectious groove. This one begins like a pop rock guitar tune and then nervously snatches and jerks in a couple of odd time sigs and keyboard stabs before settling into a great bass driven swing number that features Randall cutting loose with some terrific tenor sax and the unmistakable ivory stylings of Chuck Leavell which begs the question, "Mick and Keith—why don't you let him off his leash like you did with Billy Preston and Nicky Hopkins?"
The lyrics and delivery of them are laugh out loud funny…."I'm sharp as a tack I got my degree/I'm dumb as a brick I can't see what's right in front of me." Here, again, RB speaks to the seen and the unseen with a clarity that gives one the feeling he knows something we don't but then he's always quick to note that he is, ultimately, as blind as the rest of us and riding on a horse called Hope where he is still racked by enough doubt that he has to continually pull the reins to check the animal's face and in so doing winds up on another misdirection of his own making.
Bramblett strikes the listener as an old soul overseeing an endearingly familiar pastoral landscape of saw grass, cat tails, barbed wire and muddy water and the forgotten and damaged souls that tread through and around them. In "Pride and Place"—a full blown rock number—he speaks of "Standing in the knee high grass going to blow away watching shiny cars go screaming past." In this "New South" of which he may be one of our greatest poets there seem to be two camps—the haves and the have nots—revolving around and often oblivious to one another and, in every soul, the yearning for meaning and the concurrent desire to shut down.
As within a single song the album itself gyrates in extreme directions, such as the electronic textural jazz of "Whiskey Headed Woman" or the sparse, acoustic piano driven "Ride," which reminds me of something from The Meantime, but then finds its way back to the heart of the matter. His instrumentation is always a combination of the new and the old. The musicianship of the players he attracts speaks for itself but ambient loops and the like are in the mix to thicken the broth in a way that rewards multiple and deeper listenings.
Devil Music is just the latest jewel in the crown of Bramblett's incredibly prolific career. To have such an extraordinary voice from the South who holds the past in reverence but is not trapped by it nor obsessed by the present or future is a true treat. Having a restless souled artist of such pedigree simply follow his muse and see where he winds up is a rewarding ride for the listener of serious grown folks music. So, I beg of you, Randall, don't stop playing that Devil music.