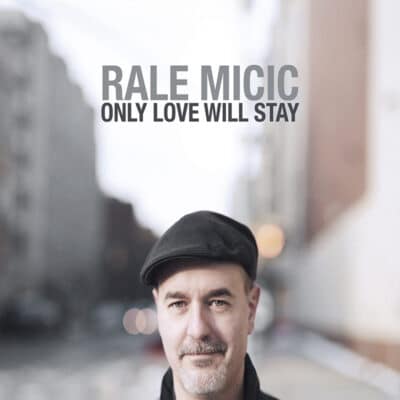 Rale Micic
Only Love Will Stay
Whaling City Sound
Organ trios generally take the soul-jazz path, to the point where such a configuration is too easily stereotyped. Guitarist Rale Micic will argue that he still brings plenty of soul in this quartet setting, Slavic soul that is. As such, it is a refreshingly different sound that most associate with the guitar-organ- drum combo. They lay down a mix of original sounds and those inspired by guitarist John Abercrombie's recordings with organ. Micic did play and record with Abercrombie before he passed away, citing Abercrombie's song "Even Steven" which appears here as a tribute to him.
Micic has stellar company. B3 organist Jared Gold, a longtime fixture in Dave Stryker's bands is aboard along with one of the most in-demand drummers in jazz, Johnathan Blake on five of the eight selections with New Orleans drummer Geoff Clapp on the other three. The accompanists have played together in previous settings and/or recordings but this marks the first time Mimic played with Gold.
The solemn title track opens, setting the tone for the album as Micic claims was mostly inspired by the pandemic in terms of love and loss. Yet this tune gets some spark from Gold who takes dazzling runs across the keys in contrast to the leader's thoughtful slower paced array of notes. For his part, Clapp delivers a propulsive undercurrent with a few flurries around the traps. Clapp brought the idea of a bossa nova treatment to the standard "How Deep Is the Ocean" as you hear his brushes subtly accompanying Mimic's archtop guitar's statement of the melody while Gold comps and delivers the bass lines. "Savas," the final Clapp tune, is filled with dynamic changes and some stirring intense interplay between all three members, with both the leader and Gold soaring at times while Clapp maintains his dynamic presence. It is especially meaningful to MIcic as it is the name of both his father and son.
The Abercrombie piece, "Even Steven" is one of the more animated tunes, featuring Blake and some of Micic's most melodic playing as Gold hits some strong chords and then takes his own inspired flight. "Better Days Ahead" begins calmly and keeps building, propelled largely by Blake's insistent beats bursts, especially during Gold's excursion. Micic plays with remarkable tone, precision, and his own unique Slavic feel which typically involves minor keys. "January" slides back down several notches into almost a requiem-like hymn. "Riverdale," named for the section in the northern Bronx where Micic and his wife now reside, finds a nice balance between tender and New York style upbeat, complete with some Blake explosiveness on the kit.
The lush closer, "Lipe Cvatu (Linden Trees Are in Bloom) sounds differentiated form the others as it's in 7/8 time and was not written by Micic but by Sarajevo national icon Goran Bregovic for his rock band, Bijelo Dugme. Apparently 7/8 time is a Balkan staple but Micic and the trio take what was a popular party song for the leader growing up in the '80s and transformed it into a more subdued form in a different arrangement. Given its Balkan ties, this tune may best represent the notion of "Slavic soul," as the guitar lines could easily be interpreted as a cousin to the blues.
One listen to Micic's approach will have you questioning the organ trio stereotype and embracing this project as something refreshingly different and as inspiring, perhaps even more so.
Help Support Making a Scene
Your Support helps us pay for our server and allows us to continue to bring you the best coverage for the Indie Artists and the fans that Love them!
Make a one-time donation
Make a monthly donation
Make a yearly donation
Choose an amount
Or enter a custom amount
$
---
Your contribution is appreciated.
Your contribution is appreciated.
Your contribution is appreciated.
Donate
Donate monthly
Donate yearly
You can donate directly through Paypal!
Subscribe to Our Newsletter
Find our Podcasts on these outlets