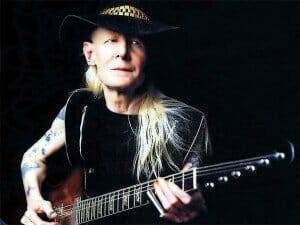 Texas blues icon Johnny Winter, who rose to fame in the late 1960s and '70s for his energetic performances and musical collaborations including with childhood hero Muddy Waters, has died. He was 70.
His representative, Carla Parisi, confirmed Thursday that Winter died in a hotel room in Zurich a day earlier. The statement said his wife, family and bandmates were all saddened by the loss of one of the world's finest guitarists. The news was also reported by the wife of Winter's longtime bandmate, Rick Derringer.
He had been on an extensive tour this year that brought him to Europe. His last performance came Saturday at the Lovely Days Festival in Wiesen, Austria.
Winter was one of the most popular live acts of the early 1970s, when his signature fast blues guitar solos attracted a wide following.
His career received a big boost early on when Rolling Stone magazine singled him out as one of the best blues guitarists on the Texas scene. This helped secure a substantial recording contract from Columbia Records and gave him a wide following among college students and young blues fans.
The magazine later named him one of the 100 greatest guitarists of all time.
Winter and his brother, Edgar were raised in a musical family, with his roots firmly planted in the Mississippi delta — his father was the mayor of Leland, Mississippi, and Winter was recently honored with a Blues Trail Marker. From before his teens, Winter was playing and recording, even sitting in with the biggest blues legends of the day and in history, including Muddy Waters and BB King. In 1968, he released his first album, The Progressive Blues Experiment, and after a now-famous performance at The Fillmore East, he was signed to Columbia Records with what was reported to be the largest advance ever made to an artist.
After his mammoth deal, Johnny immediately laid out the blueprint for his fresh take on classic blues, according to his official biography, which was a prime combination for the legions of fans just discovering the blues through the likes of Jimmy Page and Eric Clapton. His first album with Columbia was Johnny Winter, with Willie Dixon playing stand up bass. Winter continued to gain widespread critical acclaim with his innovative blues stylings and in 1970, Winter released his commercially acclaimed "Rock and Roll, Hoochie Koo", before struggling with heroin addiction for several years, seeking treatment, and emerging with a renewed lease on life.
He made a successful comeback, culminating in what Winter described to American Blues Scene Magazine as the "highlight of my life" when, after the closing of Chess Records, he brought Muddy Waters to the studio to record what would widely become known as the bluesman's comeback record, Hard Again. In the album, Winter performed most of the guitar work, while Muddy sang. Winter would go on to produce several Grammy-winning albums for Muddy before the bluesman's death in 1984.
Winter, who was instantly recognizable for his long white hair, worked with some of the greatest bluesmen, producing several albums for Waters and recording with John Lee Hooker. He paid homage to Waters on "Tribute to Muddy," a song from his 1969 release "The Progressive Blues Experiment."
Among the blues classics that Winter played from that era were "Rollin' and Tumblin'," "Bad Luck and Trouble" and "Good Morning, Little Schoolgirl." He also teamed up with his brother Edgar for their 1976 live album "Together."