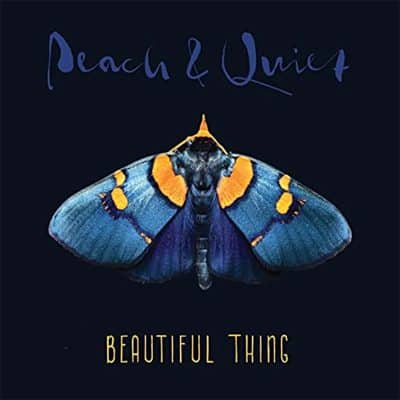 Peach & Quiet
Beautiful Thing
Peach & Quiet Music
The play on words duo Peach & Quiet are Canadians Heather Reed and Jonny Miller, both of whom sing, write songs, and play acoustic guitars. Their dozen originals draw on folk, blues, Americana, and throwback Laurel Canyon rock. This is their sophomore release and they have wisely chosen sonic and string wizard Steve Dawson to produce. Not only does Dawson do that but he sprinkles the album with his various guitar sounds and enlists his 'go-to' team of bassist Jeremy Holmes, Drummer Gary Craig, and keyboardist Chris Gestrin. If you are a frequent reader of this writer's reviews, you know that anything Steve Dawson touches should have your attention, even when he's not the main character in the play.
The album opens with the sweet folk rock of the title track, Miller and Read singing in unison before Miller takes the lead through the verses. This song was the latest released as a single with a complete video while "Horse and Saddle," "This Time," and "Calgary Skyline" all preceded it. On the latter, it's Dawson's introductory Weissenborn that begins the snappy tune with the duo singing harmoniously. Read takes the lead on the organ-drenched, slightly psychedelic "Pockets Empty," a bitter breakup song, escaping from an abusive situation, which sadly has her regretting the lost relationship. There's so much angst in Read's pleading vocal that lengthy instrumental solos are not necessary.
Miller follows with the steadily building "Behind the Sun," which features a dramatic, spiraling, bluesy electric guitar solo from Dawson after a series of rather plodding verses. So, in keeping with the pattern of alternating lead vocals, Read adopts a much gentler posture on folk-like "Just Before the Dawn" as Dawson and Gestrin add ambiance by blending pedal steel and organ. Miller takes the bouncy, syncopated "Horse and Saddle" swaddled in Gestrin's B3. "This Time" has Read's lovely alto soaring above Gestrin's organ underpinning as she expresses confidence ("This time I got it right"), faintly evoking through her vocal and Dawson's picking that Fairport Convention vibe with Sandy Denny on vocals and Richard Thompson on guitar.
On "Oklahoma or Arkansas" we follow Miller's fugitive travelogue as he journeys to New Orleans ("Never going back to Wichita, Oklahoma, or Arkansas") in this mid-tempo tale. The duo performs "Love Me Tonight" as a duet, a pleasant enough tune with, like many here, rather predictable lyrics. Read is in her folk chanteuse mode again on "Song From a Tree," punctuated with Dawson's crisp guitar runs and gorgeous harmonies in the choruses. "That Is For Sure" is a short duet ditty spiked with country rock picking from Dawson. Miller closes with the heartfelt love song "When You're Gone," another with shades of retro country rock.
Miller and Read clearly have a gift for crafting hook-filled songs. The production values are pristine, and the overall sound will inevitably draw you back (if you're old enough) to those hazy days of the '70s laid back fare like this consumed much of our listening. It's not the kind of record we often hear these days and that in itself makes it (pardon me) a "beautiful thing."
Help Support Making a Scene
Your Support helps us pay for our server and allows us to continue to bring you the best coverage for the Indie Artists and the fans that Love them!
Make a one-time donation
Make a monthly donation
Make a yearly donation
Choose an amount
Or enter a custom amount
$
---
Your contribution is appreciated.
Your contribution is appreciated.
Your contribution is appreciated.
Donate
Donate monthly
Donate yearly
Subscribe to Our Newsletter