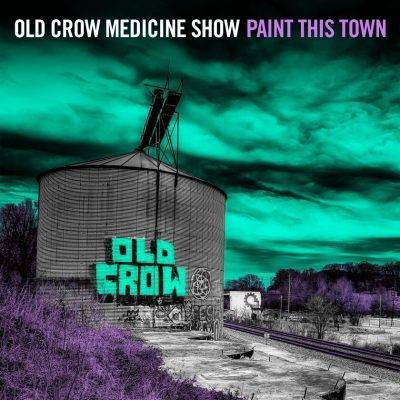 Old Crow Medicine Show
Paint This Town
ATO
While they started as a bluegrass band, Old Crow Medicine Show (OCMS) in recent years have won two Grammys and are considered one of our best roots bands, meshing Americana, old-timey music, folk, and rock & roll into an appealing sound that consistently sells out venues wherever they play. Paint This Town, their seventh studio album, marks some firsts, however. It's their first recording in their home East Nashville studio, which gave them less pressure and more freedom to even further wander around the various genres they enjoy. Secondly, having recorded with noted producers Don Was and Dave Cobb in the past, this is their first with Mat Ross-Spang serving as co-producer.
The current incarnation of the band is Ketch Secor (fiddle, harmonica, banjo, guitar, vocals), Morgan Jahnig (upright bass), Corey Younts (mandolin, keys, drums, vocals), Jerry Pentecost (mandolin, drums), Mike Harris (Slide guitar, guitar, mandolin, banjo, dobro, vocals), Mason Via (guitar, gitjo, vocals)
Not surprisingly the opening title track is a rollicking ebullient early Springsteen-esque anthem (replete with harmonica), teeming with enough joyous energy to easily envision it as live set opener. They are singing so freely and loudly as if it might be their last gig. Listen though for the brilliant details in the lyrics such as "We were teenage troubadours hopping on box cars for a hell of a one-way ride."  Band leader Secor offers this wonderful statement – "Our band has always drawn its inspiration from those elemental American places, where the water towers profess town names, where the Waffle House and the gas station are the only places to gather. This is the scenery for folk music in the 21st century, and the John Henrys and Casey Joneses of today are the youth who rise up out of these aged burgs undeterred, undefeated, and still kicking."  (Note the album art in the context of this quote)
Yet while that statement exudes a certain innocence, while the jangling guitars and vibrant vocals draw the listener in, OCMS has many observations to share on the darker aspects of American life, mixing in some personal items along the way such as the danceable fiddles and banjos on "Bombs Away," a middle-finger-in-the-air take on divorce. "Gloryland," the fourth released single along with "Paint This Town," "Honey Chile," and "Painkiller." "Gloryland" is just chock full of issues seen through a protagonist bewildered by the surrounding chaos, becoming paranoid to the extent of hearing bullets flying by and becomes completely overcome with tension. There appears to be no escape from baseless political rants, the opioid crisis where he sees friends overdosing, to the burning of stores and civic buildings. The chorus "Let me in, let me in" to those heavenly gates fall on deaf ears. His knocking becomes rhythmic and soon he realizes that all he can do is sing.
They then put one of the oldest cliches we know to song in the rock n' roll barrelhouse piano romp of "Lord Willing and the Creek Don't Rise." "Honey Chile" settles down into a gentle love song, imbued with fiddles and soaring vocal harmonies harkening to the string band days. "Reasons to Run" carries a relaxing country vibe but speaks to the toll taken by life on the road, even invoking The Lone Ranger as they end the first half of the dozen songs.
OCMS revs up a blistering tempo for "Painkiller" before delivering a sincere, not overly preachy environmental statement with "Used to be a Mountain," inspired by Secor's early years in Appalachia, witnessing the devastation of strip-mining in coal country. Fittingly "DeFord Rides Again" begins with the strains of harmonica, nodding to the legendary harmonicist DeFord Bailey, the first Black star of the Grand Ole Opry, eventually banned from the show. This is one of a few songs aimed at making country music more inclusive.  They further address racism and those long-held Southern traditions such as the Confederate flag in "New Mississippi Flag" with a new insignia that has stripes for Robert Johnson and Charlie Pride. "John Brown's Dream" has a purposeful grating, screaming, menacing tone as the sing about the radical abolitionist bent on violent means of rebellion. One can't help but draw parallels to 1-6-2021. Yes, it's uncomfortable to listen to and rightfully so. With venom depleted, the band ends on a feel-good note, with the old timey "Hill Billy Boy" like a group of testosterone- amped youthful boys at play.
Old Crow Medicine Show delivers potent messages, mostly wrapped in foot-stomping or playful renditions, casually but seriously straddling fun and purpose. It's a sleight of hand that few bands could pull off but it's the essence of who they are.
Help Support Making a Scene
Your Support helps us pay for our server and allows us to continue to bring you the best coverage for the Indie Artists and the fans that Love them!
Make a one-time donation
Make a monthly donation
Make a yearly donation
Choose an amount
Or enter a custom amount
$
---
Your contribution is appreciated.
Your contribution is appreciated.
Your contribution is appreciated.
Donate
Donate monthly
Donate yearly
You can donate directly through Paypal!
Subscribe to Our Newsletter