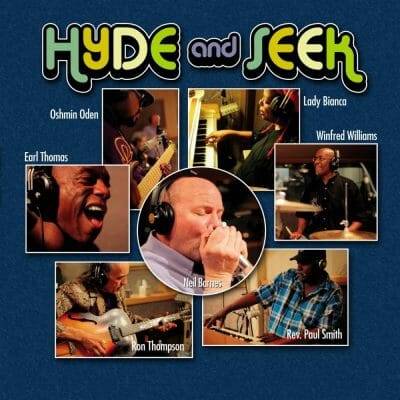 Hyde and Seek
Featuring: Earl Thomas, Lady Bianca, Rev. Paul Smith, & Ron Thompson
Neil Barnes Music
Producer Neil Barnes put together this gospel blues ensemble because he finds this music especially moving. He hand picked the first few participants and the rest of the project just fell into place.
All of the band members have a background in gospel music. Earl Thomas is the emotive West Coast singer who performs with his band The Blues Ambassadors. The Rev. Paul Smith, Hammond B-3, has played with Ike and Tina Turner, Bill Withers, and Natalie Cole. Ron Thompson the legendary guitarist and former bandleader for John Lee Hooker has seven albums of his own. Pianist/vocalist Lady Bianca has worked with everyone from Willie Dixon to Van Morrison and has six albums including three that have been Grammy nominated. The rhythm section includes Oshmin Oden, bass; and Winfred Williams, drums. Producer Barnes who, in the early 1980's, performed as Bar-B-Q Barnes and The Rib-Tones proves he hasn't lost his touch as he plays harp throughout the recording.
Barnes selected to record at the famous Hyde Street Recording Studio in San Francisco which gave the session some additional inspiration. The song selection was a collective effort. The opening track "Don't Let the Devil Ride" was written by the late Rev. Oris L. Mays. The song also appears on Lurrie Bell's 2012 recording "The Devil Ain't Got No Music". Thomas and Bianca share the vocal.
"Heart Like a Locomotive" was written by Joe Droukas and appears on his 2006 recording "Bare Branches". Thomas sings lead but is joined by both Bianca and Tia Carroll who sing the background vocals. It was first recorded by Paul Butterfield in 1986. "Ain't No Rest for The Wicked" was written by the rock band "Cage The Elephant". Once again the vocal is shared between Thomas and Bianca.
"A Song For Jill" was originally titled "Bridge Over Troubled Waters" and written by Paul Simon. This version is based on Aretha Franklin's cover which won a Grammy Award for Best Female R&B Vocal Performance in 1972. Bianca sings lead but is joined by Thomas. "Shake a Hand" was written by trumpeter and bandleader Joe Morris and an R&B hit single for Faye Adams in 1953. The lead vocal is performed here by Ron Thompson. Singing backup are Thomas, Bianca and Carroll.
"Rough Side of The Mountain" is from the Rev. F.C. Barnes, no relationship to Producer Barnes, and was recorded in 1990 on an album with the same title by the Rev. Barnes and the Rev. Janice Brown. Again the vocal is shared between Thomas and Bianca. "Just One Word" is written and sung by Thomas. "Tears, Tears and More Tears" and "When Can I Come Home" were written by Allen Toussaint and originally recorded by Lee Dorsey in 1970 and 1982 respectfully. These are sung by Thomas.
This band of world class musicians is stellar throughout the recording. Without producer Barnes' knowledge and direction this album could never have been completed. Better seek this one out.
Richard Ludmerer