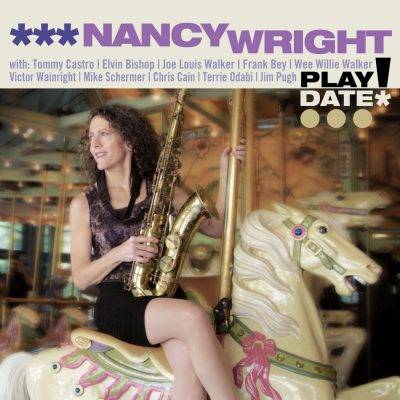 Nancy Wright
Playdate!
Vizztone/ Direct Hit Records
Saxophonist Nancy Wright is a west coast session musician who has spent the better portion of her life adorning the music of others. Currently she plays with The Frank Bey Anthony Paule Band holder of multiple BMA nominations.
Wright's first album was 2009's "Moanin", an organ combo project, with Tony Monaco. Last year Wright released "Putting Down Roots" with members of the Bey Paule Band; it was recorded at Kid Andersen's Greaseland Studios. All songs and instrumentals were composed by Wright and we got a chance to hear her sing.
Admittedly Wright surprised herself by wanting to get back into the recording studio so quickly. This time instead of self-producing she asked Andersen to be her producer. Wright had written some new songs but she and producer Andersen agreed to also include selected covers. Then they invited some special guests to play on the session; named the session Playdate! and included baby photos of the guests. You can decide who was the cutest.
The band includes Wright, sax and vocals; Anderson, guitar; Chris Burns, keyboards; Joe Kyle Jr., bass; J. Hansen, drums and percussion; Tom Poole, trumpet; and Farris Jarrah, trombone.
"Yes He Do" and "Good Lovin Daddy" are both sung by Wright; on the former Victor Wainwright guests on piano, while on the later Burns plays organ. Vocally Wright sounds like Bonnie Raitt.
On the instrumental "Soul Blue" Chris Cain guests on guitar while Burns takes a fabulous piano solo. On the sultry "Warranty" Terrie Odabi is the featured vocalist while Andersen gets funky on his guitar. Organist Jimmy Pugh guests on the instrumental "Trampled" with a nice guitar solo from Andersen. Wright's sax playing has been described as a combination of the soulfulness of King Curtis, and the funk of Junior Walker. The above five songs were written by Wright.
Wright also sings on Martha Carson's 1951 country-gospel hit "Satisfied". The song was written by Carson in response to fan disapproval over her divorce. The song was also sung by Tracy Nelson as it was the title track on Mother Earth's third album. Wright's version is very, very good as her vocal timbre and annunciation highlight the soulful lyrics; Wright's sax is equally wonderful. The backing vocal is provided by the Plymouth Church of Jazz and Justice Choir.
Wright also gives an outstanding performance, both instrumentally and vocally, on Henry Glover's "Cherry Wine". Glover was a songwriter, trumpet player and black record executive who was a Blues Foundation "Hall of Fame" inductee in 2013. Cherry Wine was originally recorded by Little Esther in 1953.
"Why You Wanna Do It" was written by Willie Harper, an under recognized New Orleans' singer; and guitarist Teddy Royal. Recorded but never released it's believed that it was arranged and produced by the legendary Wardell Quezergue. It is sung by guest vocalist Wee Willie Walker with Wright and Odabi providing the backing vocal. To historians the songs inclusion is an event. Wright gets funky on her sax.
"Been Waiting That Long" was written by Lonnie McIntosh better know to us as Lonnie Mack. Wright had gone to school in the Dayton, Ohio area and befriended Mack who was an early musical influence. Wright's sax is especially soulful on this unreleased song sung by Frank Bey.
"Blues For The Westside" is from Chicago blues saxophonist Eddie Shaw who played with both Muddy Waters and Howlin' Wolf. Guest guitarist Joe Louis Walker sits in on this fabulous instrumental. Wright's sax is brilliant.
"I Got What It Takes" was written by Willie Dixon especially for Koko Taylor who recorded it in 1964. This is another great vocal from Wright. This time Tommy Castro guests on guitar and takes a nice solo before Wright comes back with one of her own.
"Back Room Rock" was written and recorded by boogie-woogie pianist and bandleader Sammy Price in 1956. Mighty Mike Schermer guests on guitar.
"There is Something on Your Mind" is from R n' B saxophone pioneer Big Jay McNeeley whose flamboyant style incorporated "honking". It was recorded in 1959 with a vocal by Little Sonny Warner. Special guest Elvin Bishop plays guitar.
Besides being a talented sax player and vocalist, Wright is a fan and student of R n' B. Make a Playdate! with Wright as this comes highly recommended.
Richard Ludmerer