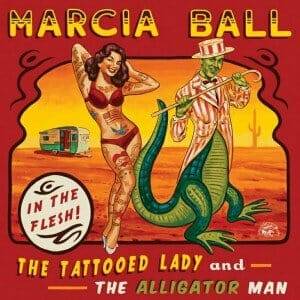 Marcia Ball is a romping, stomping boogie-woogie piano player with a voice made for expressing strong emotions and for singing party songs and telling raucous stories. It's not a subtle voice or piano style. It's made for straight-out fun and that is what you will have with The Tattooed Lady and the Alligator Man.
Ball was born in Texas and raised in Louisiana, and she combines blues, Tex-Mex and Zydeco into one joyous romp. Beginning with the circus love story of the title song, which adds horns to Ball's piano pounding to create a real circus atmosphere, the CD delivers 10 amazing originals and one cover, Hank Ballard's "He's the One" – original title "She's the One" – and will leave you feeling as though you have been a delightful bar-hopping trip along the Texas-Louisiana border.
While Ball does deliver a poignant message with "Just Keep Holding On" and some social commentary in "The Squeeze Is On," the overall feel here is of a determined woman taking care of business ("Clean My House"), embracing her blues ("Can't Blame Nobody But Myself," "Lazy Blues") but never sinking into despair and always ready to have a good time. On songs like "The Last to Know," the piano provides positive energy and the message so that the party is never far away, even when things get a little grim.
Ball has been touring for over 40 years and she knows her stuff. She has a great, road-tested band and a Grammy-winning producer, Tom Hambridge, who has worked with artists like Buddy Guy and Susan Tedeschi.
Her friend Delbert McClinton shows up to play harmonica. Together the whole team delivers a party from the first notes – soaked with blues, R&B, and Zydeco – and one that could not have originated in any other cultural atmosphere than the Gulf Coast. It's full of sass and attitude like the lady herself and the cities of Austin and New Orleans. Ball shows that she can get down and deal with the blues but she's not going to stay down long, not as long as there's a keyboard to provide a groove and a fine band to perform with her.
Get The Tattooed Lady and the Alligator Man. If you're already a fan, you'll be completely satisfied with it. If you're not a fan yet, this will make you one. Either way, you're going to have a great time!
Originally published at http://blogcritics.org/music-review-marcia-ball-the-tattooed-lady-and-the-alligator-man/