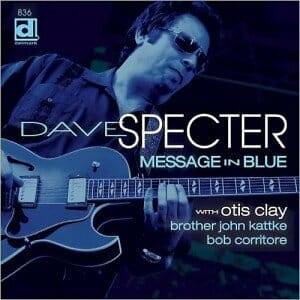 Dave Specter sets out to deliver a "Message in Blue" on his new CD, and the message is that he can write and deliver great instrumentals in a variety of blues moods. Here, he delivers songs that are defined by their titles: "New West Side Stroll," "Chicago Style," "Funkified Outer Space," "The Spectifyin' Samba," "Jefferson Stomp," and "Opus du Swamp." Jazz, New Orleans and Latin rhythms, soul… is this blues? You bet it is! The blues base never wavers.
While Specter does not sing, he lets his guitar sing for him in collaboration with Chicago soul legend Otis Clay. Clay sings three songs, "Got to Find a Way" and "I Found a Love"( a Falcons classic) with the Chicago Horns adding even more soul magic to them. Clay and Specter also deliver a very special tribute to the late Bobby "Blue" Bland with his haunting "This Time I'm Gone for Good." Together the two ring every drop of feeling out of these three songs.
"Chicago Style" features another great guest vocalist, Brother John Katke and the lyrics name a host of Chicago greats. Specter has claimed that he wanted to write a "new Chicago blues theme" and this one certainly will serve that purpose.
As for the instrumentals, they are all fun, spectacularly performed, and provide a varied range of styles that still manage to fit together as a cohesive whole. You will enjoy this CD from start to finish. And it makes a great party record too! Specter proves that a talented guitarist, great guests, and strong blues foundation can create something truly original and memorable.