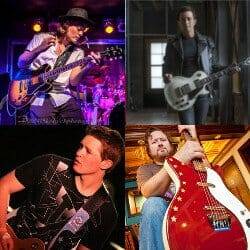 SHOW #344 – 10/31/16
LISTEN HERE: https://goo.gl/Tj0Zs5

JL FULKS
JL picked up a guitar at the age of 13 and has not looked back since. Playing in South Carolina and then Florida, where he gained experience performing on stages across the states. JL and his band won the South Florida Regional Blues Challenge and made it to the semi-finals at the 2016 IBC. His debut EP On Down The Road has brought him even more notice. JL and I spoke about his journey and where he is headed in 2017.

COLIN JAMES – Segment Begins At The 46:10 Mark
Colin has won 6 Juno Awards and 17 Maple Blues Awards and on his new album, Blue Highways, he pays tribute to some of his Blues idols including Jimmy Reed, Freddie King Jr and Buddy Guy. The ghosts of Halloween almost kept us apart, but Colin and I had a great chat about his incredible career and life.

AUSTIN YOUNG – COUCH KID NEW MUSIC
Segment Begins At The 1:31:00 Mark
Austin first sat on The Couch in May of 2011 and then on February 25, 2013 I was honored to World Premier his Blues As Can Be album. Much has changed for Austin over the last 3 years including the release of his new album, Not So Simple. Austin and I talked about the great and the sad he has endured.

ELAM MCKNIGHT – COUCH KID NEW MUSIC
Segment Begins At The 2:16:30 Mark
Elam first sat on The Couch in June of 2011 as a member of Big Black Hand. Then he returned in June if 2014 to talk about the West Tennessee Blues Society he helped start. Now he returns with a new band and new music. Elam and I spoke about all that has been happening in his world since we last spoke. He also brought along Tucker Carroll, a 14-year old guitar wiz, who has joined the band since the album was recorded, so we got to find out about this new sensation.
SONGS PLAYED:
JL FULKS – On Down The Road
On Down The Road
Honey Ain't That Love
Phrygian Dance
COLIN JAMES – Blue Highways
Boogie Funk
Goin' Away
Going Down
AUSTIN YOUNG – Not So Simple
Not So Simple
Take Me Away
Angel Flying Home
Moving On
ELAM MCKNIGHT BAND – Radio
Radio
Find Me A Hole
So Weep The Sky
I Feel Like Rockin'