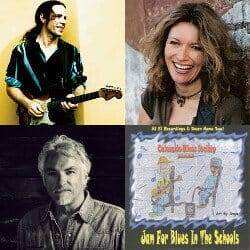 CHRIS DUARTE
Chris grew up in Texas and began playing his brother's guitar and bought his first guitar at age 14. 37 years, 14 albums (including one 'best of'), 2 instructional DVDs and thousands of performances later, he is still going strong. Chris and I talked about his life and career and checked out songs from his latest Lucky 13.

LISA MILLS – Segment Begins At The 48:00 Mark
Born in Mississippi, she now lives in Alabama. Lisa has been sharing her vocals, for many years, both on her own albums and on others. In 2010 she released, Tempered in Fire, and the world truly found her. Lisa's career path is real interesting and she and I discussed coming from a small town in the Delta to playing around the globe. We also discussed her new album I'm Changing and why she re-worked it from when she released it in 2005.

MICHAEL ONEILL – Segment Begins At The 1:34:19 Mark
The man is a singer/songwriter, producer, radio host and road warrior and he joined me to talk about all that and more. His new album is entitled I Like It Like That, is a "deeply personal diary of ONeill's inner journey and his introspective take on the challenges of life, love and loss". He has toured with U2, Stevie Ray and others…he has written songs with Bob Weir, Steve Cropper and others. He and I talked all about that and so much more. There were a few laughs along the way.

COLORADO BLUES SOCIETY – COUCH KID NEW MUSIC
Segment Begins At The 2:20:33 Mark
Each year Dan Treanor invites friends in to just hang and play. This year, they recorded it all and offered it up to the CO Blues Society to use as a fundraiser for their Blues In The Schools Program. Entitled Jam For Blues In The Schools, it was recorded one Saturday afternoon behind the direction of Couch Kid, Dan Treanor along with Erica Brown anad a host of other Colorado musicians. The album was recorded live, one take, without any overdubs and turned out awful special. I chatted with Dan, Erica, and Scott Fitzke about this project and we discussed the recording session, the song selection and how the album will fund their program.
Now…Two Ways To Listen To Music On The Couch!
Listen right from www.musiconthecouch.com at: http://www.musiconthecouch.com/#!november-2014/c1ycu
Listen using this URL and your default media player (iTunes, Windows Media Player, etc.) will open and the show will play automatically:
Chris Duarte's Segment Opens The Show
Lisa Mills' Segment Begins At The 48:00 Mark
Michael Oneill's Segment Begins At The 1:34:19 Mark
Colorado Blues Society Segment Begins At The 2:20:33 Mark