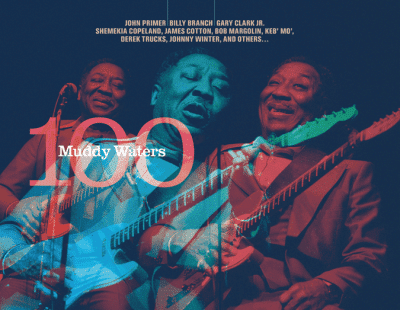 Muddy Waters 100
John Primer and Friends
Raisin' Music Records
Raisin' Music Records is the independent blues label led by director and producer Larry Skoller. In 2009 Raisin' Music released the Grammy nominated "Chicago Blues: A Living History" and its sequel 2011's "Chicago Blues: A Living History – The (R)Evolution Continues".
Muddy Waters 100 celebrates the musical legacy of McKinley Morganfield a.k.a Muddy Waters. The packaging is a cd sized 48 page hard covered book with beautiful photographs and liner notes by Robert Gordon, Grammy winning author of the biography "Can't Be Satisfied – The Life and Times of Muddy Waters".
"Muddy Waters would be a hundred years old…born April 4th, 1915 in…Rolling Fork, Mississippi…this mannish boy would soon move north…to Chicago. He absorbed the…feel of the south…electrifying that sound in the industrial north. Muddy's music ignited a cultural revolution…A Century has passed , but we are still building on a foundation that Muddy Waters established, his sound and style still going strong. His influence is everywhere around us."
The package includes a cd with fifteen newly recorded Muddy Waters tracks. Musicians included are Muddy Waters Band alumni John Primer, James Cotton, and Bob Margolin. They are joined by renowned blues artists including the late Johnny Winter, Billy Branch, Gary Clark Jr., Keb' Mo', Derek Trucks, Shemekia Copeland and The Living History Band featuring Kenny "Beedy Eyes" Smith, drums; Johnny Iguana, keyboards; Felton Crews, bass; and Billy Flynn, guitar. Additional musicians include Khari Parker, drums.
Some of the tracks are recorded traditionally while some are re-arranged and delivered in a more contemporary style. This is a fresh approach different from the "Living History" albums and makes for some new and exciting listening.
It's impossible to credit all of the players on each track. All the lead vocals are sung by Primer. "Good News" opens with Cotton sitting in on harmonica; he does so again on "I Feel So Good". On "Trouble No More" the harp is played by Billy Branch. Both of these feature Margolin on guitar. On "She Moves Me" Matt Skoller is on harp and Billy Flynn on guitar.
"I'm Ready" features Johnny Winter on slide guitar. On "Still a Fool" the slide guitar chores are by Derek Trucks. Bob Margolin plays slide on "I Be's Troubled".
On "Forty Days and Forty Night" and again on "Last Time I Fool Around With You" Crew's bass is more upfront in the mix giving the songs a different sound.
The re-arranged more contemporary sounding tracks are "Got My Mojo Working" which opens the album; "Mannish Boy"; and "Can't Get No Grindin'". These should receive considerable airplay as will all of the tracks.
Skoller's production is fabulous. Skoller, Primer and Company pay a fitting tribute that will satisfy any and all expectations. If you purchase only one cd this year this is the one to buy.
Richard Ludmerer
Muddy Waters 100—"Got My Mojo Working" featuring John Primer and Shemekia Copeland from Larry Skoller on Vimeo.