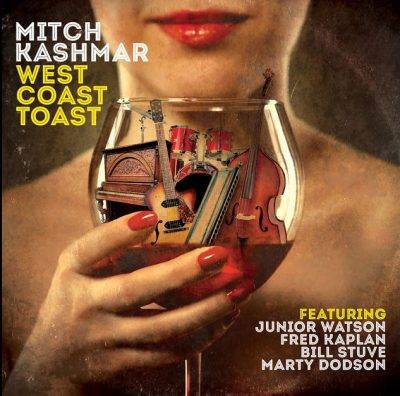 Mitch Kashmar
West Coast Toast
Delta Groove Music
Mitch Kashmar was born in the beachside community of Santa Barbara, Ca. in 1960. He is a disciple of the California harp scene that includes George "Harmonica" Smith, William Clarke, Rod Piazza, and Kim Wilson. Kashmar has shared the stage with John Lee Hooker, Big Joe Turner, Eddie "Cleanhead" Vinson, Lowell Fulson and Jimmy Witherspoon among others. He formed his band "The Pontiax" in 1980 and released "100 Miles To Go" in 1989 on the Belgium label Blue Sting Records. In 2005 Kashmar signed with Delta Groove records and released "Nickels & Dimes" produced by Randy Chortkoff; the band included Junior Watson, Richard Innes, Ronnie James Weber, Bob Welsh and guests Arthur Adams and Abu Talib (Freddy Robinson). As a result Kashmar received a 2006 Blues Music Award nomination as Best New Artist Debut. Kashmar followed up with "Wake Up & Worry" also on Delta Groove and a 2007 BMA nomination for Best Instrumentalist – Harmonica. Other Kashmar albums on Delta Groove include 2008's "Live At Labatt" and a 2010 reissue of "100 Miles To Go".
This is Kashmar's long awaited third studio recording from Delta Groove. The band includes Kashmar, harmonica and vocals; Junior Watson, guitar; Fred Kaplan, piano and Hammond organ; Bill Stuve, upright bass; and Marty Dodson, drums. The album is produced by Jeff Scott Fleenor.
Six of the eleven tracks are Kashmar originals. "East of 82nd Street" is a harmonica instrumental showcasing Kashmar's tone. The rhythm section of Stuve and Dodson lay the strong foundation that enables Kashmar and guitarist Watson to solo. The low down shuffle "Mood Indica", "Makin' Bacon" and "Canoodlin" are three more harp instrumentals.
"The Petroleum Blues" is a song that was previously included as a bonus track on the re-issue of "100 Miles To Go". It is reprised here by this great band; Kaplan takes a nice piano solo while Kashmar proves himself a fine vocalist. "My Lil' Stumptown Shack" is another vocal from Kashmar.
There are also five selected covers. "Too Many Cooks" is the Willie Dixon tune that was further popularized when it was included on Robert Cray's debut recording. "Young Girl" was written by the songwriting team of Henry Glover and Rudy Toombs. Glover was a black record executive and a 2013 inductee into the Blues Hall of Fame while Toombs was a major influence on Ruth Brown. Featured is a reedy harp solo from Kashmar and his best vocal.
"Don't Stay Out All Night" was written by Billy Boy Arnold and first recorded by him in 1957. "Alcohol Blues" is from Sonny Boy Williamson and it features another exciting high reedy solo from Kashmar. "Love Grows Cold" was written by Lowell Fulson one of Kashmar's early influences.
The album is produced by Jeff Scott Fleenor who along with Randy Chortkoff produced many albums for Delta Groove artists including those by The Mannish Boys. The album is dedicated to the memory of Chortkoff, Finis Tasby, Johnny Dyer, Lynwood Slim, Candye Kane, Richard Innes and Max Bangwell.
We had to wait 10 years between Kashmar's last studio recording and this one which may be Kashmar's best yet. I hope he continues to thrill us for years to come. This is highly recommended.
Richard Ludmerer