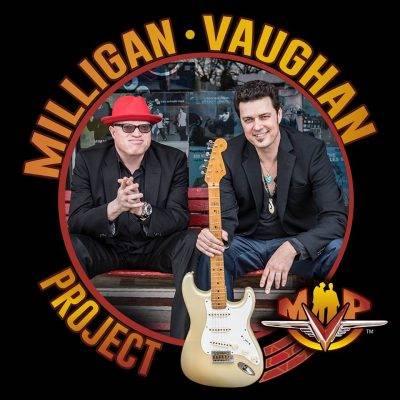 Milligan-Vaughan Project
Mark One Records
Malford Milligan is a Texas based soul, blues and rock singer who attended the University of Texas. He started a local Monday night blues jam and wound up beginning a life in music. In 1994 Milligan helped form the band Storyville with David Grissom, David Holt and Stevie Ray Vaughan's rhythm section, bassist Tommy Shannon and drummer Chris Layton, a.k.a. Double Trouble. He also worked with Marcia Ball, Alejandro Escovedo, Eric Johnson, Chris Smither and Sue Foley. Milligan fronted Randy Jacobs' Boneshakers from 2001 to 2003. During this time he also formed The Malford Milligan Band and toured The Netherlands as well as his home state. In 2006 Milligan released the album "Rides Again". In 2014 Milligan was a featured vocalist on The Knickerbocker All-Stars "Open Mic at The Knick".
Tyrone Vaughan was five years old when his uncle Stevie Ray gave him his first guitar. He therefore grew up knowing that music was his legacy. Vaughan authored the song "Without You" with his father and it appears on Jimmie Vaughan's 2001 Grammy Award winning album "Do You Get The Blues". That album also included James Cotton, Double Trouble and Lou Ann Barton. He has also performed with ZZ Top's Billy Gibbons, Pinetop Perkins and Eric Gales. In 2015 Tyrone joined Royal Southern Brotherhood led by Cyril Neville and he appears on both 2015's "Don't Look Back" and 2016's "The Royal Gospel".
The band includes Milligan, vocals; Vaughan, guitars; Chris Maresh or Jeff Hayes, bass; Brannen Temple or Kenneth Furr, drums; and Michael Ramos or Jay D. Stiles, keyboards. Four of the songs were produced by Milligan's old friend Grissom at Arlyn Studios in Austin; while the remaining tracks were produced by Omar Vallejo at his 512 Studio also in Austin. The Executive Producer is Austin Legend Mark Proct who was SRV's manager and is also author of the book "Home Today Gone Tomorrow" chronicling forty years of Austin Music and Rock N' Roll history.
The MVP kicks things into gear with "Soul Satisfaction" written by Grissom and Davy Knowles. Vocalist Milligan and guitarist Vaughan are joined by Ramos, Maresh, and Temple; Grissom is on second guitar. Also written by Grissom/Knowles is "Here I Am" beautifully sung by Milligan and with a great guitar solo from Vaughan. These are produced by Grissom along with Tyrone Vaughan's "Little Bit of Heaven" featuring another great raspy vocal; and a fabulous cover of Gene McDaniels' "Compared to What" originally recorded by Les McCann in 1966.
Vallejo takes over as producer on the Milligan/Vaughan collaboration "Driving You" and Vaughan takes a nice solo as Milligan sings "I'm a low down driver and I just want to drive you". It is followed by "Devil's Breath" co-written by Vaughan and Dan Dyer.
Three covers follow: Buddy Guy's "Leave My Girl Alone" is soulfully sung by Milligan "I'm not an evil man but I might do something wrong". Originally recorded by Guy on his 1967 Chess album, "I Left My Blues in San Francisco"; it was covered by SRV on 1989's "In Step".
"Dangerous Eyes" is a cover of a 2016 single written and recorded by Edwin Holt and Red Clay Roadhouse; sung fabulously by Milligan. "Two Wings" written by the Grammy award winning gospel singer James Cleveland, is performed as a duo with just vocalist Milligan and Vaughan on an acoustic guitar.
Also included are two live tracks recorded at Austin's One-2-One Bar. "What Passes For Love" was written by Grissom. The other live track is "Palace of The King" originally recorded by Freddie King on his 1971 album "Getting Ready…" on Leon Russell's Shelter Records. Written by bassist Donald "Duck" Dunn and co-producers Don Nix and Russell the song was also included on John Mayall's 2007 tribute "In The Palace of The King".
Milligan and Vaughan are a great partnership each complimenting the other. Not only is this exciting blues rock but it also documents the legacy left to these Texans. This highly recommended album deserves repeated listening.
Richard Ludmerer
[amazon_link asins='B074PH1KBJ,B074PHJL4J,B074PHLCMM,B074PHFZ7W,B074PJF9JH,B074PHDVGH,B074PJ2PJL,B074PHYS65,B074PHTT2V' template='ProductCarousel' store='maasc-20′ marketplace='US' link_id='56f17f24-988c-11e7-90d2-a7e3cdcdde5c']