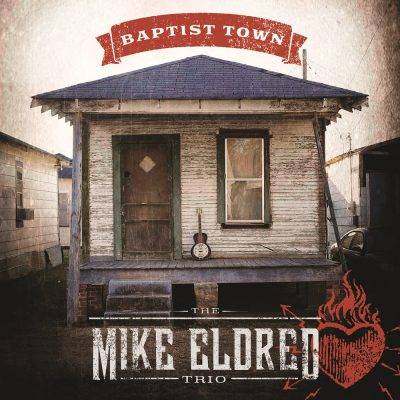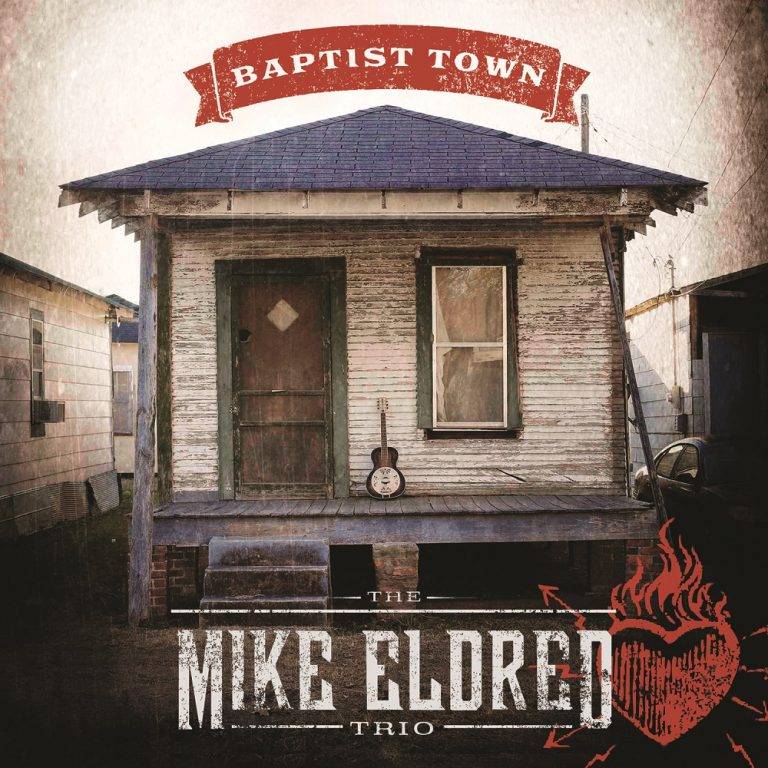 The Mike Eldred Trio's Baptist Town tells a story in blues, all about the South and the many opposing forces that fill its history and still affect its present. Good and evil, sin and salvation, Black and White, joy and sadness, love and hate are all part of Southern tradition, and Eldred and his band and special guests capture it all. The album is dark, steamy, with flashes of brightness here and there. Everything is intense because that is what the South is: a cauldron for emotion, and Eldred gets that.
The album's title comes from the small town near Greenwood, Mississippi, where Robert Johnson met his death, probably murdered by poisoning, although considering that in the juke joints they drank moonshine made of boot black or sometimes kerosene, it could have been an accident. Anyway, just to make sure they captured the essence of the area, it was recorded at Sun Studios in Memphis. Special guests include Robert Cray, David Hidalgo and John Mayer.
It all opens with the rockabilly "Hunder Dollar Bill," with Eldred channeling a bit of Elvis and drummer Jerry Angel and bassist John Bazz churning along with Eldred's guitar while John "Big Nick" Samora provides some great harmonica, But the mood changes rapidly with the first dip into the dark side with "Papa Legba," a swampy and mysterious number enhanced by the harmonies of Eldred and Jarvis Jernigan. The sense of danger continues when the Emmanuel Church Inspirational Choir backs Eldred on "Somebody Been Runnin'," a spiritual which could have been a slave song. It acknowledges the importance of the church in Southern culture and the constant underlying fight between darkness and light, life and death.
"Run Devil Run" is a simpler country blues with Eldred doing some tasty Resonator work and James Pennebaker on mandolin, joined by Lauren Brown tap dancing."Roadside Shrine" is a sad, slow ballad with John Mayer guesting on electric guitar and lap steel. "Bess"is country, given a Cajun flavor by David Hidalgo's accordion accompaniment and featuring excellent harmony on the vocals. The story gets chilling on "Black Annie," with lyrics full of desperation.
"Hoodoo Man" takes a rocking rhythm and some cool horns to continue the dark story of love gone wrong, hoodoo and crime. Then "Sugar Shake" suddenly makes a lightening change to a rocker that belongs at a shack where everyone dances. It has a Jerry Lee Lewis feeling, without Lewis' pounding piano. It's an interlude, but then "Kill my Woman." a straight-out nlues rovker, spells out in no uncertain terms what other songs skirted around. It sums up the story line of :Black Annie" and "hoodoo Man."
The title track, "Baptist Town," is a lament for that small town and the thousands like it in the South, poor and full of people who mostly just want out. Robert Cray lends his distinctive blues guitar to it. It is followed by a cover of The Beatles' "Can't Buy Me Love" that is like nothing you have ever heard. This one is a dirge, and a menacing one . The words are the same but the meaning is completely changed. Amazing.
Just to remind us there is another side in this battle, everything ends on a more hopeful note with the gospel number, "You're Always There." The choir returns, Jernigan takes the lead vocal and Eldred is joined by choir members Vicki Dove and Michael Buccowich on background vocals. Papa John De Francesco. provides the organ.
This release perfectly captures the mood of the South, past and present, and does it with some fantastically good musicianship. It is not an easy listen if you're really paying attention, as you should, but is a thought-provoking and moving experience. If you want to know what it fe;t like in the juke joints with Johnson and the other early bluesmen, this is probably pretty close..