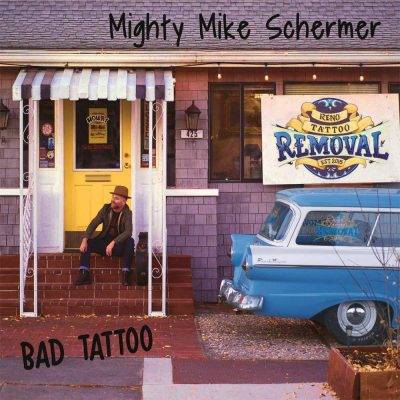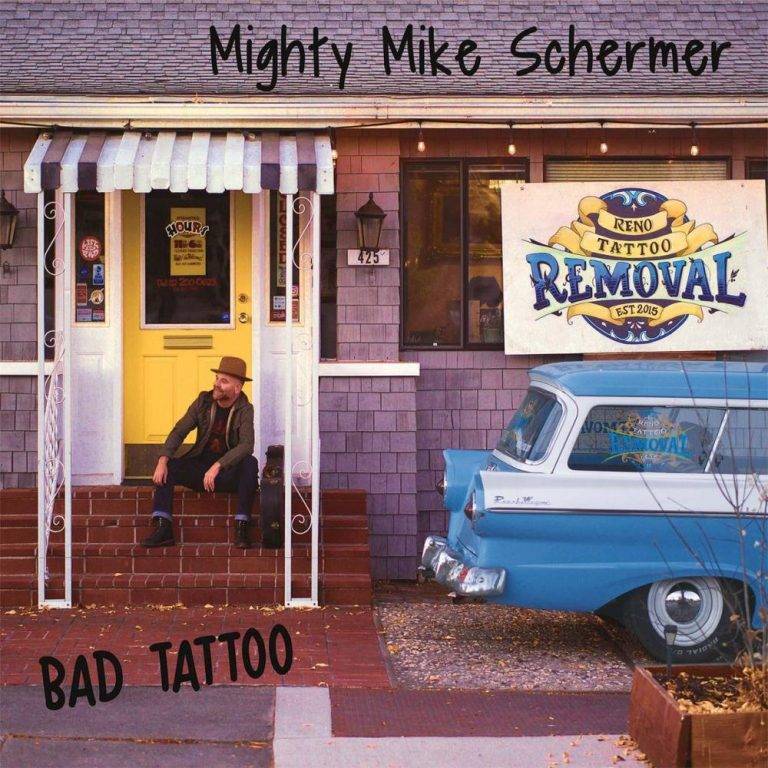 Mighty Mike Schermer
Bad Tattoo
Firedog Records/Vizztone Label Group
As a youngster Mike Schermer played guitar, trumpet and clarinet. He played in school and in various bands. Then one night in 1984 he saw Albert Collins and it was a life changer. Schermer soon expanded his influences to include T-Bone Walker, Howlin' Wolf, Ray Charles, Sam Cooke, Wilson Pickett and Charles Brown. As part of the California bay area blues scene he became the guitarist in The Soul Drivers with harp ace Andy Santana, drummer June Core and bassist Steve Ehrmann. While with that band he got to play behind artists such as Willie Dixon, Jimmy Rogers, Billy Boy Arnold, Luther Tucker and Snooky Pryor. In 1998 The Soul Drivers became Angela Strehli's touring band and he followed Strehli to Austin where he became her musical director. Strehli's 1998 "Deja Blue" album featured Schermer on guitar. Schermer released his own debut recording in 2000.
In 2006 Schermer was hired by Elvin Bishop and he appears on Bishop's Delta Groove album "The Blues Rolls On". Schermer wrote the award winning song, "My Big Sister's Radio", and it was covered by Tommy Castro on his 2008 BMA winning "Painkiller" album. Schermer relocated to Austin to join Marcia Ball's band and appears on her 2011 "Roadside Attractions" album. Schermer also kept recording his own albums his last being 2015's "Blues in Good Hands" and it resulted in a 2016 Blues Music Award nomination as Best New Artist.
The core band is the same as on his last recording. Included are Schermer, guitar and vocals; Ehrmann, bass; Paul Revelli, drums; and Austin Delone, organ. The recording is co-produced by Schermer and Kid Andersen at Andersen's Greaseland Studios in San Jose, Ca. This is Schermer's seventh recording overall. Each of the twelve songs are written or co-written by Schermer.
Joining the band on the opener "She Won't Be Coming Back" and again on the title track, co-written with Ehrmann, is the horn section of Eric Bernhardt, baritone and tenor saxophones; and Nancy Wright, tenor saxophone. Guitarist Schermer is also an outstanding vocalist.
Jim Pugh sits in on organ on three tracks including "I Can't Let Go" with the addition of Tony Stead, electric piano; and backing vocalists Billy Price and L'il Baby. On "One Thing Every Day" Bernhardt becomes the background vocalist replacing Price. While "Ain't That The Way Love Goes?" includes a completely different band with Pugh, Chris Cain on electric piano, and the rhythm section of Andersen, bass; and Alex Pettersen, drums.
"Lover's Hall of Fame" is a tune featuring Andersen's thumpin' bass; "D'Mar" Martin on drums, and Dennis Dove on congas who shares the vocal with Schermer. "How Much Longer?" is a rockabilly styled guitar rumble by Schermer with Delone on a Farfissa organ. Cain re-joins Schermer, this time on guitar on "Suffocating Love"; while "Stop Looking For Love" features special guest harmonica ace Rick Estrin. These are fabulous songs.
Schermer has appeared on some of our best blues albums. He might be lesser known but not for long. Guitarist/vocalist Schermer has arrived and he brings with him this fabulous band. Better grab this as it's already among the years best recordings.
Richard Ludmerer