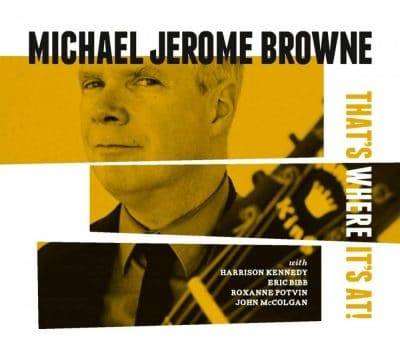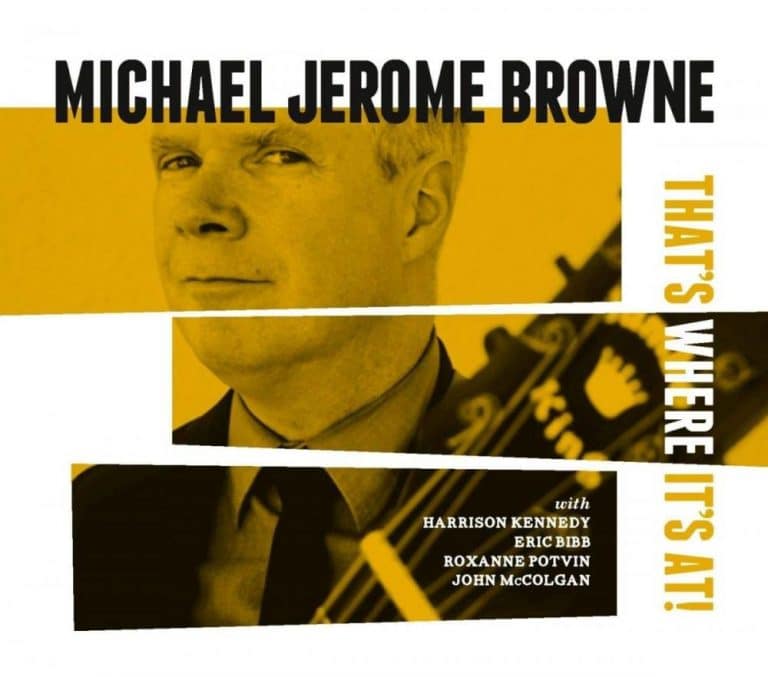 Michael Jerome Browne
That's Where It's At
Borealis Records
Michael Jerome Browne was born in South Bend, Indiana. His family moved to Montreal when Browne was still in his teens. Browne had mastered the guitar and harmonica and toured Europe as a one man band before returning to join the Stephen Barry Band. He released his eponymous debut in 1999 and received several Juno award nominations for his blend of folk and blues. Browne is also a Maple Blues Award winner who has amassed a total of thirty-two nominations. His last album was 2016's "Can't Keep A Good Man Down". Browne also appears on Eric Bibb's 2017 Grammy nominated "Migration Blues" which he co-produced.
On most of "That's Where It's At!" Browne performs solo; he plays six and twelve string guitar, harmonica, and a fretless gourd banjo. On five tracks he is accompanied by John McColgan on drums. Guest vocalists include Harrison Kennedy, Eric Bibb and Roxanne Potvin. Five songs are written or co-written by Browne while the remaining are selected covers.
Browne opens with the original instrumental "Don't Ask Me Why". Also from Browne is "Curtis' Blues", while the other three originals are co-written with his regular writing partner B.A. Marcus. "Love's A Funny Thing" is a beautiful song and the first of my two favorites from them; the other being "Remember When", a romantic duet with vocalist Roxanne Potvin.
On Ferdinand Washington's "Black Night" we get to hear Browne's expressive voice as McCoglin's drums accentuate the rhythm. Browne performs another duet with the three- time Blues Music Award winning Bibb on Blind Willie Johnson's "Everybody Ought To Treat A Stranger Right" and the sparks fly again.
The six-time BMA nominated Harrison Kennedy shares the vocal with Browne on "That's The Way Love Is" recorded by Bobby "Blue" Bland in 1962. Kennedy also guests on "Pharaoh" a spiritual from Sidney Carter and it's another fabulous duet.
Other covers include "Skeletons" from Stevie Wonder recorded in 1987. "Somebody Have Mercy" popularized by Sam Cooke in 1962; "Here I Am (Come and Take Me)" from Al Green in 1973, and the Randy Newman classic "Louisiana 1927" first recorded in 1974.
On the closer Browne reprises "Pharaoh" and sings solo as he frails a gourd banjo. Browne combines his folk, blues and soul music in his own unique way. The album is also produced by Browne whose sparse production proves that "less is more".
Richard Ludmerer