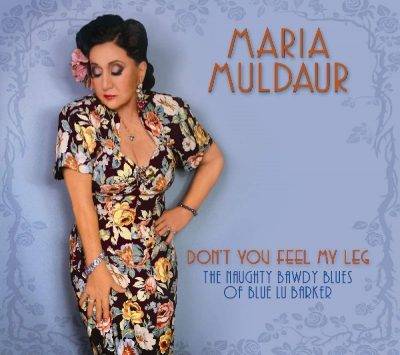 Maria Muldaur
Don't You Feel My Leg
The Naughty Bawdy Blues of Blue Lu Barker
The Last Music Company
Maria Muldaur was born and raised in Greenwich Village. In 1963 she began her recording career as a member of The Even Dozen Jug Band. She was Maria D'Amato at the time and the following year, she left to join the Jim Kweskin Jug Band where she met and married Geoff Muldaur. As a duo the Muldaur's released two albums, Pottery Pie in 1968 and Sweet Potatoes in 1971 before embarking on her own solo career. She scored it big in 1973 with her first self-titled album from which she had the hit single "Midnight at The Oasis". Although that song sold a million copies the most requested song from that album was "Don't You Feel My Leg". This is her forty-first solo album.
"Don't You Feel My Leg" was written and first recorded by Blue Lu Barker, and her guitarist husband Danny Barker, on Decca Records in 1938. In the years following Muldaur's 1973 recording she became close friends with the Barker's both of whom passed in the 1990's.
"Because of my friendship with Blue Lu and Danny, and my longtime association with that song, I was invited to New Orleans two years ago to put on a concert paying tribute to Blue Lu as part of the recently created Danny Barker Festival held there every January". In preparation for that concert Muldaur researched Blue Lu's repertoire to come up with two hours of material. After the sold-out show the audience swarmed the CD table clamoring to take home a recording of Muldaur singing Blue Lu's songs. At that moment she envisioned this collection.
In June of this year Muldaur returned to New Orleans to record and assembled an all star cast of NOLA's finest. The core band includes Chris Adkins, guitar; Roland Guerin, bass; and Herlin Riley who has worked with Wynton Marsalis and Dr. John, drums and percussion. Featured on piano is Muldaur's musical director David Torkanowsky. Torkanowsky has worked with Muldaur on four previous recordings and has also worked with Johnny Adams, Walter "Wolfman" Washington, Irma Thomas, and Stanton Moore among others. Then there is the six piece horn section, two trumpets, two trombones and two saxophone players who also double on clarinet.
Besides the title track, standouts include "Loan Me Your Husband" and "Trombone Man Blues". This risqué material pales in comparison to some explicit lyrics heard today. Muldaur states "in an era when so many aspects of sexuality are dealt with and discussed with such deadly seriousness, I find the lighthearted playful expressions of sexuality in these songs a pleasant and welcome respite from the fraught discourse prevailing today…this are all basically hip, fun happy songs, and I think we could all use a big dose of Happy right about now."
This fun bluesy album is also New Orleans jazz. It is recorded with production values equal to or greater than anything else heard lately. Muldaur has done it again.
Richard Ludmerer
[amazon_link asins='B07FT6DVP7,B001A3GT60,B001O54NJO,B00008MLSK,B000GIWGX0,B01BWQYS3U,B079FGRY4R,B00F6TU9G0′ template='ProductCarousel' store='maasc-20′ marketplace='US' link_id='bbaa8a07-d345-11e8-9199-2b41c35dc659′]