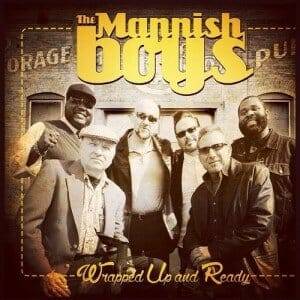 The Mannish Boys
Wrapped Up and Ready
Delta Groove Records
The Mannish Boys were formed to be a Muddy Waters tribute band. They're named after a Muddy Waters song so they are readily identifiable with Waters. Individually they were already veterans of the west coast blues music scene when they decided to band together. They are a band but also a revue featuring constantly changing leaders and vocalists. This is their seventh album on Delta Groove.
The current lineup consists of Sugaray Rayford, vocals; Kirk "Eli" Fletcher and Frank "Paris Slim" Goldwasser, lead and rhythm guitars; Willie J. Campbell, bass; and Jimi Bott, drums. Fred Kaplan plays piano on most tracks. There are many guest guitarists and surprises. The musician's credits can get confusing but I will try to break them down.
The title track "Wrapped Up and Ready" was co-written by Rayford and Ralph Carter. It is sung by Rayford. Kim Wilson is featured on harp and background vocals. Rayford and Wilson sound like Sam and Dave. "Troubles" is another song written and sung by Rayford. Monster Mike Welch is on lead guitar.
"Struggle in My Hometown" and "Don't Say Your Sorry" are written and sung by Goldwasser who also plays lead guitar. On the former Rich Wenzel guests on piano.
"It was Fun" and "I Can Always Dream" were both written by Randy Chortkoff but Rayford does the singing. On the former Steve Freund is on guitar. On the later it's Goldwasser. "Can't Make A Livin'" is also written by Chortkoff. It is a vocal duet with Chortkoff and Trenda Fox. Chortkoff is featured on harmonica while Welch plays guitar.
"I Ain't Sayin'" and "I Have You" were both written by Mike Welch and feature him on guitar. Rayford's vocals are commanding. On the former Fletcher is on rhythm guitar. The later features Goldwasser on rhythm and Bob Corritore on harp.
"The Blues Has Made Me Whole" is written and sung by Steve Freund. He also plays lead guitar.
On Roy Brown's "Everything is Alright", Ron Dzuibla is added on saxophone. Nico Duportel takes the first guitar solo. Kid Ramos plays lead guitar and takes the second solo. This one is old school R n' B.
"I Idolize You", the Ike and Tina Turner classic is sung here by Candye Kane. The guitarist is Laura Chavez. Chortkoff guests on harmonica. Bill Stuve is on bass, and Dave Kida, on drums. The background vocalists sound like the Ikettes.
"You Better Watch Yourself" was written by the late Robert Wilson of The Gap Band.
Fletcher solos on guitar. Jacob "Walters" Huffman guests on harmonica. "Something For Nothing" was written by the late Robert Ward of The Ohio Untouchables. Kim Wilson is on Harmonica. Welch is on lead guitar. "She Belongs to Me" is from Magic Sam. It is sung by Rayford. Kid Ramos is the guitarist.
The closer is "Blues for Michael Bloomfield" a guitar instrumental written and played by Fletcher. Wenzel's organ adds the finishing touches.
The album is skillfully produced by Randy Chortkoff and Jeff Scott Fleenor. Chortkoff has more player moves than Tommy Lasorda coaching The Los Angeles Dodgers. The Mannish Boys are one of the premier blues bands of the last decade and this is another great recording.
The album is dedicated to the great Finis Tasby who previously was a featured vocalist; and to the memory of Nick Curran who left us way too soon.
Richard Ludmerer