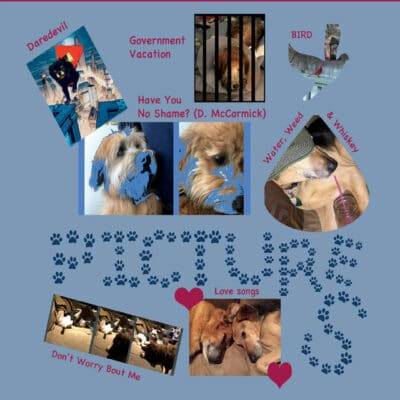 Mandi Strachota
Pictures
Mandi Strachota is a very talented Atlanta singer/songwriter and musician. She was the winner of the Atlanta Blues Challenge and represented the city nobly in the International Blues Challenge 20220 in January. Her new album is called Pictures and it is a real treat, for the most part much lighter than her last album, Unleashed, but just as frank and straight to the heart.
While Strachota often performs solo and acoustic, she also sometimes plays with a band, as she does here. And that band, known as the Major 7, happens to be made up of Atlanta legends: Lee Goodness on drums, Anthony Mancini, on electric guitar, Jon Schwenke on bass, Tony Erice on percussion, Nathan Nelson on guitar and vocals, Chad Mason on keyboards, and Daryl Dunn on saxophone and flute. What a phenomenal band! and yet Mandi's voice is clear over it all. The mix is perfect to my ears.
The album has 9 tracks, only one of which was not written by Strachota. The one that wasn't is the standout track on the album. "Have You No Shame" was written by the deeply-loved Donnie McCormick and is one of those songs that reach in and tear your heart. Both Strachota and the band are perfect on this track. it is rare to hear a singer and a band understand other so perfectly. Strachota knows how to dig every bit of emotion out, and she is backed by musicians who have played this song through all sorts of conditions in all kinds of places. Her songs are very good, but this is one of my all-time favorite blues songs.
But the goodness goes on. The first track is the haunting "Pictures," with its eerie background noises. It is followed by the more upbeat "Daredevil," which deals with life's dualities. It also features some tasty piano and electric guitar. After it is "Government Vacation," a cheerful song about going to jail.
"Bird" is a lovely song, with delightful flute and a very folky sound, very reminiscent of Melanie or Joni Mitchell. Then, after "Have You No Shame," it's time to party with those Blues favorites "Water, Weed, and Whiskey!" Mandi belts it out, and the drums and piano rock throughout.
"Don't You Worry 'Bout Me" is a jazzy blues about minding your own business. Then the lovely introduction to "Love Songs" with wonderful sax and piano, lead us to Strachota's beautiful, aching confession: "I'm tired of writing love songs. . ."
The album ends with my favorite bit of musical nonsense, a 50s type rocker which is a love song to a "Secret Taco" Mandi rocks as the band oohs in the background. You will never look at tacos the same.
From aching to angry to rocking, this album does it all. If you are not familiar with Mandi Strachota, it's time you were. If you are, you are going to love this!